Print this page
Home >
S6500 Series Projected
S6500 Series Projected
Projected Window
Frame Depth (inches) 2.25
Operation

Description A thermal strutted architectural grade projected window with integral and fixed-stack mull for minimum sightlines. Available in a dual glazed design that offers high-performance glazing combinations and integral mini-blinds. Mulls to 2-1/4" frame depth products.
Applications
Acoustical
Commercial
Education
Healthcare
AAMA Rating
AP-AW105 / AP-HC100
Test Size (inches)
42 x 66
Air Infiltration (cfm/ft2)
0.04
Water Resistance (psf)
12.11
Design Pressure Positive (psf)
105.26
Uniform Load Structural (psf)
157.89
View 3D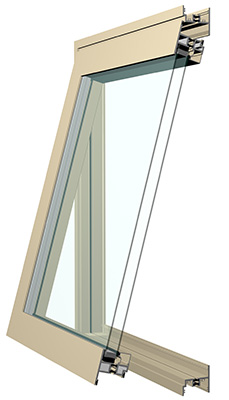 Standard Features
Integral and fixed-stack mull for minimal sightlines
Mulls horizontally or vertically to 2 1/4" frame fixed and operable products
Receptor and panning systems available for installation
Flush design of vent and frame for aesthetic appeal
Vent .125" wall thickness; frame 0.080"
Optional Features
Dual-glazed design offers optional:

High-performance glazing combinations
Integral mini-blinds
Impact-resistant polycarbonate lite

Stainless steel projected or aluminum hardware
4-bar stainless steel or aluminum butt-hinge option
Hardware options to limit vent access to custodial use
In-swing or out-swing on operable units
Blast-Resistant (B6500) version available

Dual finish

(two-tone color) option
Related Products
Technical Data
Product Literature
Additional Resources
CAD Files
Projected; In-swing; Thermal Strut
Fixed Over Projected; In-swing; Thermal Strut
Projected Over Projected; In-swing; Thermal Strut
Projected; Out-swing; Thermal Strut
Fixed Over Projected; Out-swing; Thermal Strut
Projected Over Projected; Out-swing; Thermal Strut
Projected Over Projected; Out-swing Over In-swing; Thermal Strut
Frame Options; Thermal Strut
Single Glazed; Thermal Strut
Lift-In Guardian; Thermal Strut
Pivot Guardian; Thermal Strut