Print this page
Home >
2200 Series Single Hung
2200 Series Single Hung
Hung Window
Frame Depth (inches) 4.0
Description Architectural grade single-hung window with side-load sash that mulls to 4" frame products.
Applications
Commercial
Education
Government and Municipal
Healthcare
Historic Replication
AAMA Rating
AW-PG65 / AW-PG100
Test Size (inches)
60 x 99
Air Infiltration (cfm/ft2)
0.12
Water Resistance (psf)
12.11
Design Pressure Positive (psf)
65.16/100.25
Uniform Load Structural (psf)
97.74/150.38
Notes
The air infiltration and water resistance performance values provided above were achieved in a controlled lab environment. Performance of our products in the field will vary depending on product configurations, installation methods, and ambient conditions. AAMA 502 "Voluntary Specification for Field Testing of Newly Installed Fenestration Products" should be adhered to for testing installed products.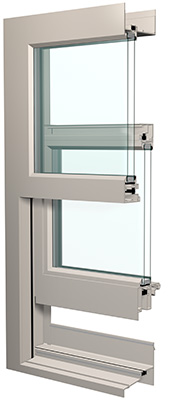 Standard Features
Block & tackle balances for superior operation
Mulls to 4" frame fixed and operable products
Sash easily removes from frame for maintenance & cleaning
Removable take-out clips to prevent unauthorized sash removal
Full-length extruded lift handles
Optional Features
Applied-profile muntin grids
Dual-glazed split sash to permit high-performance glazing combinations
Dual window available in some configurations
3" Extruded Auto Lock or Full Length Extruded Auto Lock (specify)
High-performance balances up to 120 lbs. per sash (larger sightlines at jambs)
Exterior-beveled (putty) glazing leg on historic models
True colonial muntins
White bronze hardware
Related Products
Description Architectural grade double-hung window with side-load sash that mulls to 4" frame products.
U-Value0.49 - 0.68
AAMA RatingAW-PG45 / CW-PG65
Test Size (inches)60 x 99
Air Infiltration (cfm/ft2)0.21/0.07
Water Resistance (psf)9.82
Design Pressure Positive (psf)45.11/65.16
Technical Data
Product Literature
Additional Resources