Print this page
Home >
GT0200 Series Horizontal Sliding
GT0200 Series Horizontal Sliding
Horizontal Sliding Window
Frame Depth (inches) 4.0
Description Advanced design thermal strutted architecural grade horizontal sliding window that mulls to 4" frame fixed and operable products.
Applications
Commercial
Energy Performance
Healthcare
Historic Replication
Residential High-Rise
Test Size (inches)
150 x 79
Air Infiltration (cfm/ft2)
0.12
Water Resistance (psf)
12.11
Design Pressure Positive (psf)
60.15
Uniform Load Structural (psf)
90.23
Notes
The air infiltration and water resistance performance values provided above were achieved in a controlled lab environment. Performance of our products in the field will vary depending on product configurations, installation methods, and ambient conditions. AAMA 502 "Voluntary Specification for Field Testing of Newly Installed Fenestration Products" should be adhered to for testing installed products.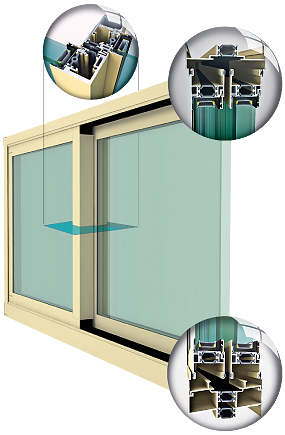 Standard Features
Dual strut thermal breaks for improved thermal performance
Mulls to 4" frame fixed and operable products
All sash, fixed and operating, are removable from inside
Chrome steel ball bearing rollers adjust to two positions
Full-length integral pull rails
Sweep lock and keeper
Exterior-beveled (putty) glazing leg on model GT0200H (Historic beveled sash) & up to 1" insulating glass
Optional Features
Anti-takeout blocks to restrict sash removal
Extruded latch at jamb
3" Extruded Auto Lock or Full Length Extruded Auto Lock (specify)
Flange frame 2"
Bypassing sash (not available with extruded locks) for easy cleaning without removing
Up to 1 1/4" glazing pocket on Model GT0200F (flat glazing leg sash) for triple glazing combinations
Optional 15 lbs. water sill and high performance meeting rails

Dual finish

(two-tone color) option
Technical Data
Product Literature
Additional Resources