Print this page
Home >
GT7800 Series Dual Action
GT7800 Series Dual Action
Dual Action Window
Frame Depth (inches) 2.75 - 3.375
Description Highly energy efficient dual action window system that can mull to other GT products of the same frame depth.
Applications
Commercial
Energy Performance
Residential High-Rise
AAMA Rating
DAW-HC95 / HC-40
Test Size (inches)
36 x 72 / 60 x 99
Air Infiltration (cfm/ft2)
0.05/0.01
Water Resistance (psf)
12.12/8.36
Design Pressure Positive (psf)
95.3/40.13
Uniform Load Structural (psf)
143/60.19
Notes
The air infiltration and water resistance performance values provided above were achieved in a controlled lab environment. Performance of our products in the field will vary depending on product configurations, installation methods, and ambient conditions. AAMA 502 "Voluntary Specification for Field Testing of Newly Installed Fenestration Products" should be adhered to for testing installed products.
View 3D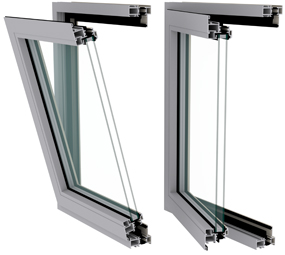 Standard Features
2 3/4" or 3 3/8" frame depth
1" overall glazing
Multi-point locking at all four sides of the window
Thermal strut technology for superior U-values
Center gasketed for pressure equalization
Euro-groove design for hardware versatility
EPDM dry glazed
Optional Features
Exterior-applied muntin grids
Limit device (Casement Mode)

Dual finish

(two-tone color) option
Technical Data
Product Literature
Additional Resources
CAD Files
Dual Action; Inswing; 2¾" Frame Depth
Dual Action/Fixed; Inswing; 2¾" Frame Depth
Dual Action w/Offset Frame; Inswing; 2¾" Frame Depth
Dual Action; Fixed Over Vent Over Fixed; Inswing; 2¾" Frame Depth