Print this page
Home >
S0900 Series (OXO) Sliding Glass Doors
S0900 Series (OXO) Sliding Glass Doors
Doors
Frame Depth (inches) 4.0
Description This highly versatile architectural grade thermal strutted sliding glass door is ideal for apartment buildings and hotels.
Applications
Commercial
Residential High-Rise
Test Size (inches)
144 x 96
Air Infiltration (cfm/ft2)
0.13
Water Resistance (psf)
12.11
Design Pressure Positive (psf)
70.18
Uniform Load Structural (psf)
105.26
Notes
The air infiltration and water resistance performance values provided above were achieved in a controlled lab environment. Performance of our products in the field will vary depending on product configurations, installation methods, and ambient conditions. AAMA 502 "Voluntary Specification for Field Testing of Newly Installed Fenestration Products" should be adhered to for testing installed products.
View 3D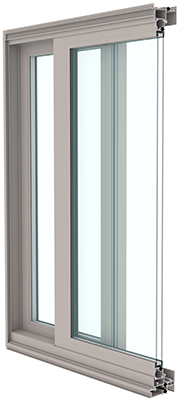 Standard Features
Mulls to 4" fixed and operable products
Adjustable stainless steel tandem rollers
Stainless steel track cover
Extruded surface mount pull handle
Top-hung screen
Optional Features
10 psf and 12 psf high-performance sill options
Fixed transom at top
Fixed side lite
Deadbolt night lock

Dual finish

(two-tone color) option
Technical Data
Product Literature
Additional Resources
CAD Files
Insulating Glass; XO; Thermal Strut
Insulating Glass; XOX; Thermal Strut
Insulating Glass; OXO; Thermal Strut
Insulating Glass; OXXO; Thermal Strut
Frame Options - Head; Thermal Strut
Frame Options - Sill; Thermal Strut
Interlock Options; Thermal Strut