Print this page
Home >
S1500 Series Fixed
S1500 Series Fixed
Fixed Window
Frame Depth (inches) 4.5
Description A thermal strutted architecural grade fixed window system that mulls to fixed and operable products of the same frame depth.
Applications
Commercial
Energy Performance
Historic Replication
Test Size (inches)
60 x 99
Air Infiltration (cfm/ft2)
0.01
Water Resistance (psf)
12.11
Design Pressure Positive (psf)
90.23
Uniform Load Structural (psf)
135.34
Notes
The air infiltration and water resistance performance values provided above were achieved in a controlled lab environment. Performance of our products in the field will vary depending on product configurations, installation methods, and ambient conditions. AAMA 502 "Voluntary Specification for Field Testing of Newly Installed Fenestration Products" should be adhered to for testing installed products.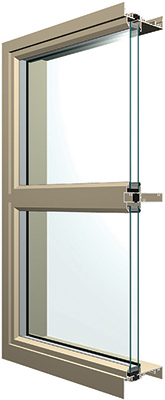 Standard Features
Mulls to fixed and operable products of same frame depth
Bead glazing up to 1" thick
Coped corner construction
Optional Features
Dual-glazed split sash to permit use of highperformance glazing combinations & integral blinds
True and exterior-applied muntin grids
Radius shapes and custom curving to specification
Sloped glazing leg option
Thermal Strut (S1500) version available
Offset fixed, simulates a double hung

Dual finish

(two-tone color) option
Related Products
Technical Data
Product Literature
Additional Resources
CAD Files
Insulating Glass; Historic; Thermal Strut
Guardian Sash; Historic; Thermal Strut
Frame Options: 0.080" Walls; Thermal Strut
Frame Options: 0.090" Walls; Thermal Strut
Glazing Options; Thermal Strut
Insulating Glass; Off-set Frame; Simulated Double Hung; Thermal Strut