Print this page
S3000 Double Hung
Hung Window
Frame Depth (inches) 3.25
Description An architectural grade double hung with tilt-in sash. Applied grids and flange frame options available.
Applications
Commercial
Energy Performance
Residential High-Rise
AAMA Rating
AW-PG75 / AW-PG50
Test Size (inches)
60 x 99
Air Infiltration (cfm/ft2)
0.13
Water Resistance (psf)
12.11
Design Pressure Positive (psf)
75.19/50.13
Uniform Load Structural (psf)
112.78/75.19
Notes
The air infiltration and water resistance performance values provided above were achieved in a controlled lab environment. Performance of our products in the field will vary depending on product configurations, installation methods, and ambient conditions. AAMA 502 "Voluntary Specification for Field Testing of Newly Installed Fenestration Products" should be adhered to for testing installed products.
View 3D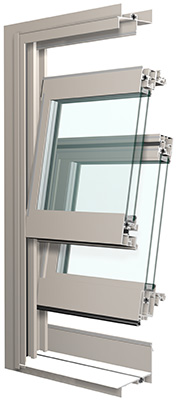 Standard Features
Block & tackle balances for superior operation
Mulls to 3 1/4" frame fixed and operable products
Tilt sash for ease of cleaning
Steel pivot bar in Delrin® shoe
Maintenance-operated tilt-release mechanism
Extruded automatic head and sill latches
Full-length extruded lift handles
Thermal strut technology for superior U-values
Optional Features
Applied-profile muntin grids
White bronze sweep lock at meeting rail
3" Extruded Auto Lock or Full Length Extruded Auto Lock (specify)
Self-mull jambs for both double-hung fixed units
Multiple units can utilize common jamb and continuous head & sill with operable and fixed units
High-performance class 5 balances

Dual finish

(two-tone color) option
Related Products
Frame Depth (inches) 3.25
Description Architectural grade fixed window system mulls to 3-1/4" fixed and operable products.
U-Value0.35 - 0.57
AAMA RatingAW-PG120 / FW-HC100
Test Size (inches)60 x 99
Air Infiltration (cfm/ft2)0.01
Water Resistance (psf)12.11
Design Pressure Positive (psf)120.30
Technical Data
Product Literature
Additional Resources