Print this page
Home >
S6800 Series Casement
S6800 Series Casement
Casement Window
Frame Depth (inches) 3.5
Description Thermal strutted architectural grade casement window with historic, blast mitigation, hurricane resistant, acoustical, and security/vandal screen capabilities. Mulls to 3-1/2" frame depth products.
Applications
Acoustical
Commercial
Education
Healthcare
Historic Replication
Test Size (inches)
36 x 60
Air Infiltration (cfm/ft2)
0.01
Water Resistance (psf)
15.04
Design Pressure Positive (psf)
105.26
Uniform Load Structural (psf)
157.89
Notes
The air infiltration and water resistance performance values provided above were achieved in a controlled lab environment. Performance of our products in the field will vary depending on product configurations, installation methods, and ambient conditions. AAMA 502 "Voluntary Specification for Field Testing of Newly Installed Fenestration Products" should be adhered to for testing installed products.
View 3D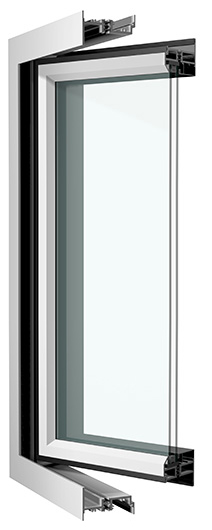 Standard Features
Sloped exterior glazing leg simulates putty-glazed profile
Integral and fixed-stack mull for minimal sightlines
Mulls horizontally or vertically to 3 1/2" frame fixed and operable products
Receptor and panning systems available for installation
Flush design of vent and frame for aesthetic appeal
0.125" wall thickness
Optional Features
Triple glazed with exterior IG unit, mini-blinds, and applied grids
Dual-glazed design offers optional:

High-performance glazing combinations, including IG unit
Integral mini-blinds
Impact-resistant polycarbonate lite

Hardware options to limit vent access to custodial use
In-swing or out-swing on operable units
Pour and debridge (6800) Blast-Resistant (B6800) and Hurricane-Resistant (HI6800) versions available

Dual finish

(two-tone color) option
Related Products
Technical Data
Product Literature
Additional Resources
CAD Files
Casement; In-swing; Thermal Strut
Fixed Over Casement; In-swing; Thermal Strut
Casement; Out-swing; Thermal Strut
Fixed Over Casement; Out-swing; Thermal Strut
Glazing Options; Thermal Strut
Frame Options; Thermal Strut
Lift-In Guardian; Thermal Strut
Pivot Guardian; Thermal Strut
Curtain Wall Insert; Casement; Out-swing; Thermal Strut