Print this page
Home >
S7400 Series Terrace Doors
S7400 Series Terrace Doors
Doors
Frame Depth (inches) 3.25
Description Thermal strutted heavy commercial grade terrace door is ideal for apartments, hotels, and condos.
AAMA Rating
AW-PG60 / ATD-HC65 / ATD-HC60
Test Size (inches)
42 x 90
Air Infiltration (cfm/ft2)
0.04/0.02/0.05
Water Resistance (psf)
12 / 10 / (For ADA sill, contact Graham)
ADA Sill: Limited Water (contact Graham)
Design Pressure Positive (psf)
60.15/65.20/65.20
Uniform Load Structural (psf)
90.23/105.33/97.81
Notes
The air infiltration and water resistance performance values provided above were achieved in a controlled lab environment. Performance of our products in the field will vary depending on product configurations, installation methods, and ambient conditions. AAMA 502 "Voluntary Specification for Field Testing of Newly Installed Fenestration Products" should be adhered to for testing installed products.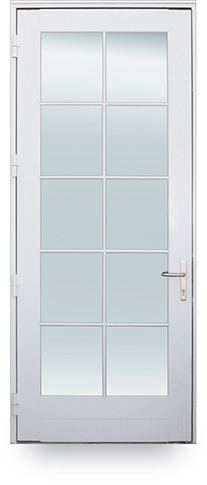 Standard Features
Thermally improved with dual polyamide insulating strips
Sloped exterior glazing leg simulates historical putty-glazed profile
Mulls horizontally or vertically to 3 1/4" frame fixed and operable products
Flush design of door and frame for aesthetic appeal
Coated steel hardware features a self-latching system with multi-tongue and shoot bolts
Optional Features
Low-profile sill (out-swing models only)
Applied grids with 1" insulating glass unit
French door configuration (out-swing only)
Cast brass handles available in six styles with seven finish options.
Stainless steel hardware system with self-latching and multi-point turning & shoot bolts
Decorative or plain face plate

Dual finish

(two-tone color) option
Technical Data
Product Literature
Additional Resources
CAD Files
Terrace Door; Std. Sill; Out-swing
Terrace Door; Low Sill; Out-swing
Terrace Door; Standard Sill; In-swing
Terrace Door; Low Sill; In-swing
French Terrace Door: Out-swing
Series S7400 Terrace Door Handle Options
Terrace Door Mullion Options