Home >
Dual Finish (Two-Tone) Option
Dual Finish (Two-Tone) Option
Some window and door products are limited to one color choice. Due to their "pour and de-bridge" type of thermal break, they are single extrusions.  Thermally strutted products like our GT6 series are not limited to a single color or finish selection.  These products use a polyamide style thermal break that can join two separately finished interior and exterior aluminum extrusions together.  This allows separate finish selections for the interior and exterior of the window or door.  In addition to the advantage of having different colors interior and exterior, this also allows for different performance grades of finishes to be used which could be a cost savings for the project.  The interior surfaces are not exposed to the elements and may not require the same level of performance required for the exterior.
---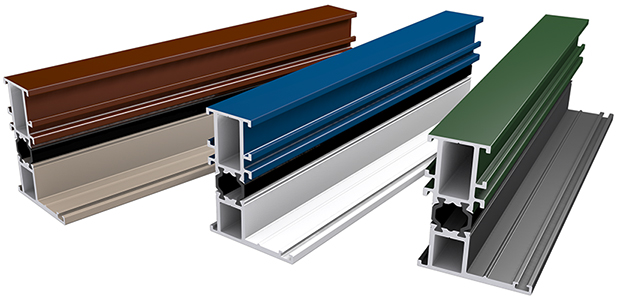 Polyamide thermal struts allow for different interior and exterior finishes while providing superior U-factors.
---
Graham Architectural Products window and door Series that begin with "GT" or "S" employ this polyamide thermal strut technology and allow a dual finish option.  Contact your Graham sales rep to find out more.