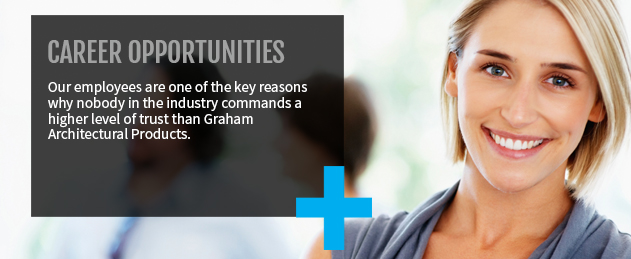 A Great Place to Work
Thank you for considering Graham Architectural Products (GAP) as a potential employer. GAP is an equal opportunity employer offering good wages and benefits to hard-working, creative, energetic and highly motivated people.
That's how, for more than 40 years, GAP has been able to produce, deliver and stand behind the highest quality and most innovative products in the architectural window and door industry. And that's why nobody in the industry has more experience, is more reliable, or commands a higher level of trust than Graham Architectural Products.
Graham Architectural Products consists of:
Graham Architectural Products – 

Corporate Offices and Production Facility – York, PA
Our employees are our most valuable asset. We are committed to providing:
A safe, comfortable, energized and rewarding work environment
Competitive and fair pay and benefits
Opportunities to learn and train both on the job and in more formal settings
Support of management at all levels