Print this page
Home >
2000 Series Single Hung
2000 Series Single Hung
Hung Window
Frame Depth (inches) 3.25
Description A versatile 3-1/4" single hung window with security/vandal screen capabilities. Radius tops and arches available.
Applications
Commercial
Government and Municipal
Historic Replication
Test Size (inches)
60 x 99
Air Infiltration (cfm/ft2)
0.20
Water Resistance (psf)
10.03
Design Pressure Positive (psf)
45.11
Uniform Load Structural (psf)
60.67
Notes
The air infiltration and water resistance performance values provided above were achieved in a controlled lab environment. Performance of our products in the field will vary depending on product configurations, installation methods, and ambient conditions. AAMA 502 "Voluntary Specification for Field Testing of Newly Installed Fenestration Products" should be adhered to for testing installed products.
View 3D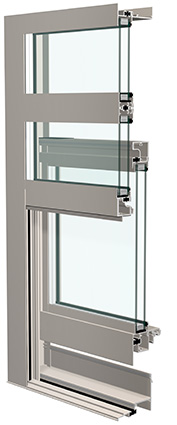 Standard Features
Block & tackle balances for superior operation
Mulls to 3 1/4" frame fixed and operable products
Sash easily removes from frame for maintenance & cleaning
Removable take-out clips to prevent unauthorized sash removal
Full-length extruded lift handles
Auto-sill locks
Optional Features
True muntins
Applied-profile muntin grids
Class 5 balance to 120 lb. sash
2" and extended-flange frame
Integral transom
Impost for double window utilizing continuous head and sill
White bronze lock at meeting rail
3" Extruded Auto Lock or Full Length Extruded Auto Lock (specify
Sloped exterior optional
Custom nail fins for commercial new construction
Blast-Resistant (B2000) model available
Historic Bevel (2000H) model available
Technical Data
Product Literature
Additional Resources
CAD Files
Insulating Glass, no Screen Track
Single Hung Side Load with Nail Fin
Insulating Glass with Screen Track
Single Hung over Fixed with Nail Fin
Historic Beveled Frame and Sash; Egress
Insulating Glass, Historic
Historic Beveled Frame & Sash
Frame Options: Historic Beveled Frame Heads
Frame Options: Historic Beveled Jambs and Sash
Frame Options: Flat Frame Jambs