Print this page
Home >
Hurricane Resistant – HIS1400HP (High Performance) Series Fixed
Hurricane Resistant - HIS1400HP (High Performance) Series Fixed
Fixed Window
Frame Depth (inches) 4.0
Description Hurricane resistant high performance fixed window.
Applications
Hurricane Resistant
Test Size (inches)
84 x 92
Design Pressure Positive (psf)
30
Design Pressure Negative (psf)
60
Notes
The water resistance performance values provided above were achieved in a controlled lab environment. Performance of our products in the field will vary depending on product configurations, installation methods, and ambient conditions. AAMA 502 "Voluntary Specification for Field Testing of Newly Installed Fenestration Products" should be adhered to for testing installed products.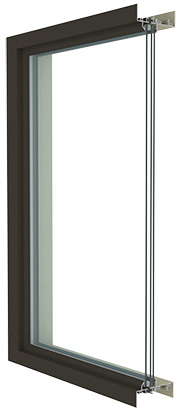 Standard Features
Fixed windows for hurricane-impact resistance
Provides large missile impact protection
Offers passive protection from wind-borne debris without shutters
Thermally broken frame with IG option for superior energy savings
Bead glazing up to 1" thick
Putty bead frame style with historic grids
Coped corner construction
Mulls to fixed and operable products of same frame depth
Optional Features
Dual windows combine two frames joined by thermal barrier; each frame may be single or dual glazed
Dual-glazed split sash to permit use of high-performance glazing combinations & integral blinds
True and exterior-applied muntin grids
Historic grids and grids at interior glass
Sloped glazing leg option
Thermal strut (S1400H) version available
Offset simulated hung (S1400H) available
Dual finish (two-tone color) option (S1400H)
Blast-resistant (B1400)
Technical Data
Product Literature
Additional Resources
CAD Files
Single Plane HP Fixed; Annealed-Lami IG; Large Missile
Single Plane HP Fixed; Annealed-Lami IG; Small Missile