Print this page
Home >
Hurricane Resistant – HIS6300 Series Fixed
Hurricane Resistant - HIS6300 Series Fixed
Fixed Window
Frame Depth (inches) 3.5
Description Fixed window for hurricane-impact resistance.
Applications
Hurricane Resistant
Test Size (inches)
48 x 80
Design Pressure Positive (psf)
80
Design Pressure Negative (psf)
120
Notes
The water resistance performance values provided above were achieved in a controlled lab environment. Performance of our products in the field will vary depending on product configurations, installation methods, and ambient conditions. AAMA 502 "Voluntary Specification for Field Testing of Newly Installed Fenestration Products" should be adhered to for testing installed products.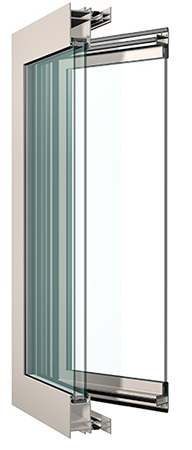 Standard Features
Fixed window for hurricane-impact resistance
Operable vent is tested to withstand three 2000 ft-lb impacts and still operate
Specially designed hardware and glazing system for hospital and psychiatric applications (maintenance personnel access only)
Dual strut thermal breaks for improved thermal performance
0.125" wall thickness in frame and vent members
Dual glazed design offers:
- Interior impact-resistant polycarbonate lite
- High performance glazing combinations including triple glazed
- Integral mini-blinds
Concealed hinges with built-in snubber
Optional Features
Glazing type, layers and thickness may vary dependent on level of protection needed
Number of locking points may vary dependent on level of protection needed
Dual finish (two-tone color) option
Technical Data
Product Literature
Additional Resources
Specifications
Installation Guide
Accessory Installation Guides
CAD Files
Fixed; 1/2" Access Panel; 1" Annealed IG
Curtain Wall Insert with 1" Blind Option