Graham Windows Deliver Simple Elegance to New AC Hotel
July 25, 2018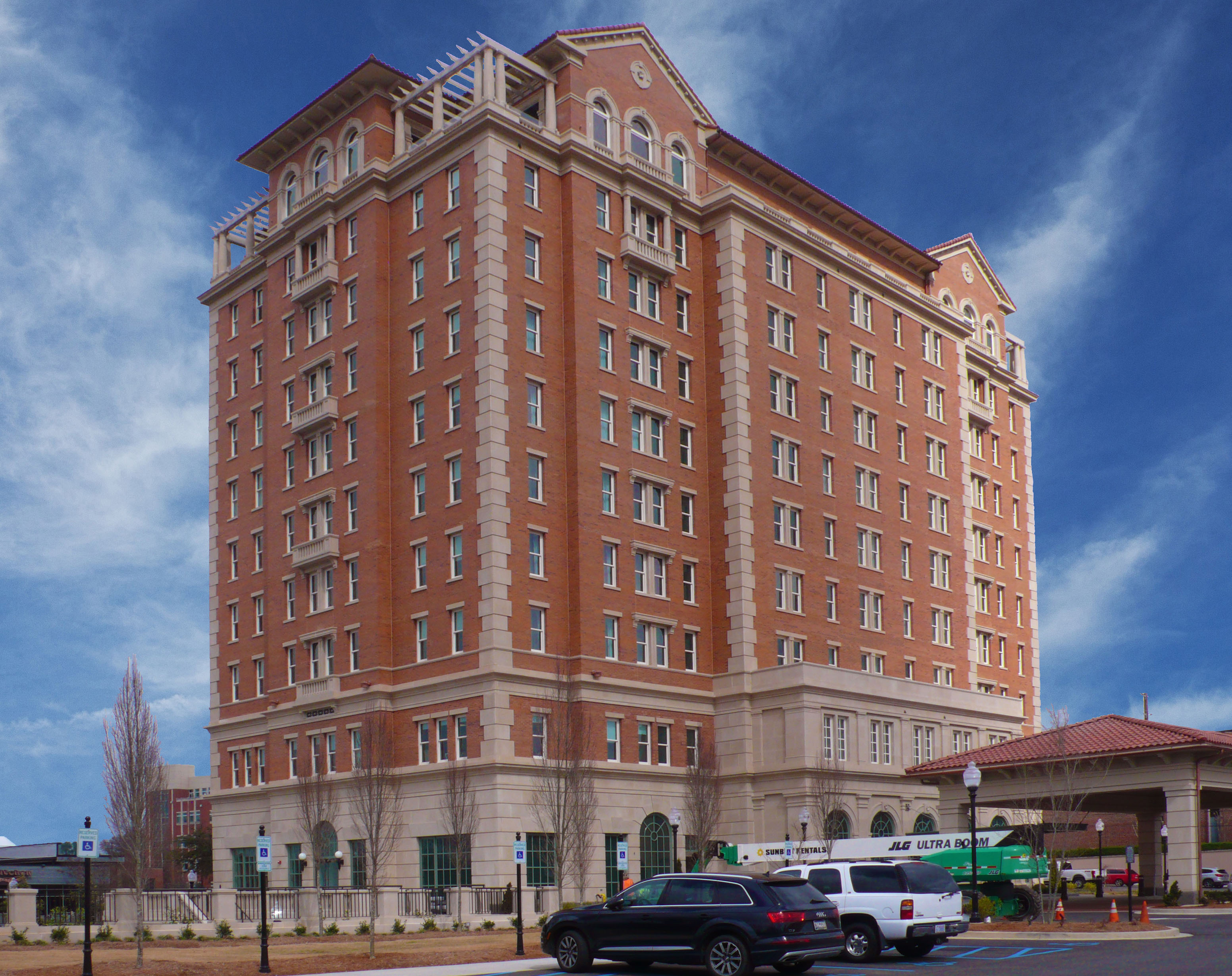 AC Hotel Spartanburg, SC
---
Sometimes less is more. The Graham Architectural Products windows in the dazzling, new AC Hotel Spartanburg (South Carolina) provide a great example. "It's a gorgeous building," says Tim Cooper, Graham's southeast regional manager. "The architectural detail is absolutely phenomenal. In fact, the windows are simple elegance compared to the ornate design of the exterior brickwork and stonework. But they absolutely complement each other."
Floors 2 through 9 of the 10-story, 100,000-square-foot structure feature 530 of Graham's S1400 Series windows, most of which are offset fixed windows. The windows don't have any grids, and while they look like double hung windows, they're actually offset fixed windows. Nevertheless, the appearance of double hung windows gives the hotel the look of the venerable architecture found in major cities such as New York, Philadelphia and Boston.
"Graham was able to add to the elegance of the building without having an over-ornate window," Tim says, "and by doing so, we were able to help bring the project to where the architects' vision was: a grand, old-school building."
The S1400 Series is a high thermal performing window. Because the windows are fixed with no operable sash, there are no air leakage pathways, making them more energy efficient. The windows also have argon gas-filled insulating glass with latest generation, high-performance, low-e coating to provide optimum energy savings.
That's how the Graham product is contributing to the owners' efforts to attain Leadership in Energy and Environmental Design, or LEED, Silver Certification.
Graham produced windows for floors 1 and 10, as well. For the first floor, Graham manufactured 12 Palladian windows, each 6'8" wide and 13'11" tall.
Tim and Graham Engineer Jim Hicks developed a solution to the size challenge: custom true muntins for the strength a window of this size demands. With their striking green exterior and white interior, the Palladian windows' two-tone finish helped deliver the architects' desired aesthetic.
Graham also manufactured radius-top windows and terrace doors for the 10th floor penthouse, which houses the Level 10 restaurant.
The architectural design was a collaboration between Washington, D.C.-based David M. Schwarz Architects and Spartanburg's McMillan Pazdan Smith. Alabama-based Robins & Morton served as general contractor and the installer was 1st Choice Glass of Monroe, North Carolina.
"At the end of the day, I think everyone was very happy with the windows," Tim says. In fact, Graham is pursuing two new projects with McMillan Pazdan Smith.
---
To find out more about the Graham window and door products used on this project, contact Bruce Croak, Graham's marketing manager.
Growth Dips in June Yet Remains Positive
July 20, 2018
Billings Stable Across Sectors
"Architects continue to see increases in demand for their services this summer, with new project work coming in at a healthy pace," said American Institute of Architects Chief Economist Kermit Baker, Hon. AIA, describing …
Dodge Momentum Index Gains in June
July 11, 2018
DMI Approaching Ten-Year High
June marked the fifth straight monthly increase for the Dodge Momentum Index, a measure of nonresidential construction projects in planning.
The commercial component rose 1.1% while the institutional component made a smaller 0.3% gain. Overall, the …