GAP in the News
October 31, 2014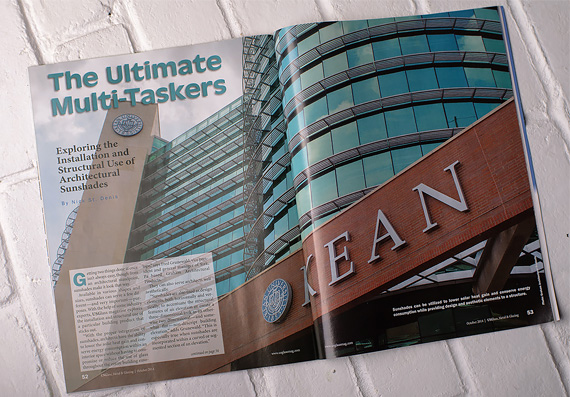 In the past two months alone, both Architectural Products and US Glass magazines have directed their spotlights toward Graham Architectural Products (GAP) and the Kean University Green Lane Building project.
That's interesting, since the GAP portfolio of projects spans many building types in many different arenas. But the work we did there seems to have struck a real chord in the industry.
Architectural Products noted the project in its September, 2014, look at the Higher Education market and said in part, "To meet the architect's requirements for a tilted ellipse curtain wall and a vertical radius wall, a hybrid pressure wall/unitized curtain wall from Graham Architectural Products was the solution. In addition, sunshades strategically located on the radius and tilted ellipse walls help create a unique look while controlling solar heat gain."
For its article "exploring the installation and structural use of architectural sunshades," US Glass conducted extensive interviews with Fred Grunewald, vice president and general manager of Graham Curtain Wall Solutions, as well as others from the industry.
The result is an informative article helped immensely by Fred's insight and a striking two-page photograph of the Kean building – one that offers indisputable proof of how GAP insight can pay off in the finished product.
Check it out in the October issue of US Glass. And if you would like more information on Graham Architectural Products or Graham Curtain Wall Solutions, contact Jim Eisenbeis, Graham's director of marketing & project management, at his office, 717-849-8119, on his cell phone, 717-659-0154, or via email, jeisenbeis@grahamwindows.com.
NY City Code Crackdown Underscores Importance of Informed Expertise
October 14, 2014
A New York City crackdown on energy code violations sheds new light on the importance of making sure experienced, informed partners are playing an integral role in new construction and retrofit project planning, design and implementation.
According to an article …
The Impact of California Regulations on the U.S.
October 7, 2014
Michael Hodgson, founder of ConSol, said California's energy policy is driving the market to time-of-use energy pricing, incentivizing ways to reduce peak load, and detailing how the policy impacts energy choices in buildings.
Hodgson made his comments during his presentation, …