Graham Helps Architect Realize Vision for Philadelphia High-Rise
October 30, 2017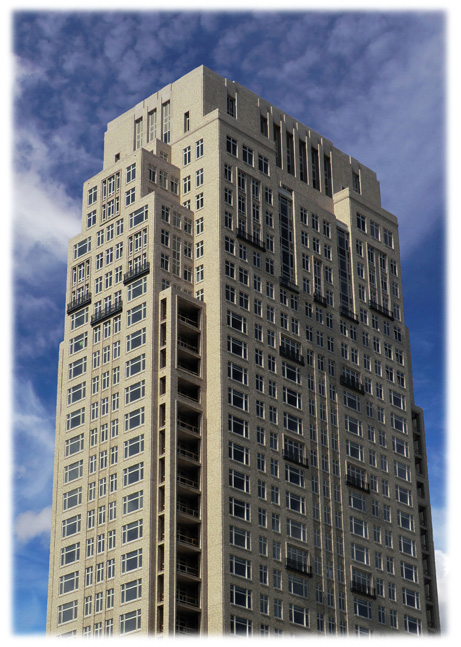 1601 Vine Street becomes "The Alexander"
---
Graham played a key role in the realization of 1601 Vine Street, a 32-story, Philadelphia high-rise, by developing a solution where others could not.
In a typical opening, Robert A.M. Stern Architects, of New York, wanted two tall, narrow pieces of glass, with a mullion in between and a transom lite above each. Although the tall, narrow lites and the transom lites had to look identical from the outside, some were to be fixed, while others were to be operable via an inswing casement.
"The architect actually designed it around a competitor," says Bill Wilder, Graham's director of technical sales, "but we were able to get our foot in the door because it happened to be a configuration that our competitor was struggling to provide."
According to Wilder, matching the sightlines was especially difficult given an additional design demand. "They wanted a deep beveled return, like an inch-deep, 60-degree angle from the outer face back to the glass. That was the critical factor. And they had to meet ADA (Americans with Disabilities Act) requirements.

"We were able to give them exactly what they wanted," Wilder adds. Graham developed "a hidden casement window," now known as the GT1000, 2,375 of which are installed in the striking mixed-use structure at 1601 Vine Street.
The Church of Jesus Christ of Latter-Day Saints owns the building, as well as a nearby meeting house that was completed in Phase 1 of the project. According to Wilder, Graham manufactured "maybe 100" windows for the meeting house.
As for the high-rise, now known as The Alexander, Graham also provided 108 of its GT7700 doors and several curtain wall insert vents.
---
To find out more about the Graham products used on this project, contact Bruce Croak, Graham's marketing manager.
September Soft For Architectural Billings Index
October 20, 2017
The Architecture Billings Index (ABI) fell in September, ending a streak of seven consecutive months in which the Index indicated increased demand for design services.
The ABI is a leading economic indicator of construction activity in the U.S., and reflects …
Still Strong After All These Years
October 16, 2017
Construction underway on ambitious project in Canton, Ohio
The site of the former Hercules Engines factory had remained largely unoccupied since the company closed its doors in 1999, concluding 84 years of operation. Over the next seven years developers …
DMI Registers September Decline
October 9, 2017
The Dodge Momentum Index dropped in September, falling 8.4 percent. The institutional component led the way with a monthly decline of 11.5 percent.
The Momentum Index is "a monthly measure of the first (or initial) report of nonresidential building projects …
History, Baked In
October 2, 2017
The Strietmann Center is open for business following an ambitious renovation project by owner and developer Grandin Properties, partnered with Denis Back & Associates and HGC Construction.
A Delectable Past
The Strietmann building, which originally housed The Strietmann Biscuit …