November Construction Numbers Send Mixed Signals
December 14, 2015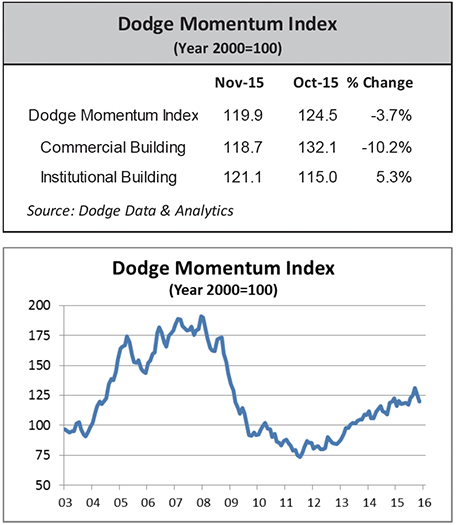 A significant dip in commercial planning was the key contributor to a 3.7 percent November drop in the Dodge Momentum Index.
The Index is a monthly measure of the initial report for nonresidential building projects in planning. Projects in planning have been shown to lead construction spending for nonresidential buildings by a full year.
Planning for commercial projects fell 10.2 percent, which means Dodge's November numbers extended an October swoon, following month-to-month increases of nearly 5 percent in July and September. According to the Dodge Momentum Index release, "The loss of momentum seen in October and again in November is returning the Index to a level that's more consistent with the gentle upward trend in planning that began in 2012."
Offsetting the slide in commercial projects was a bump of 5.3 percent for institutional projects entering planning.
Some good news arrived in November's employment figures, released by the Bureau of Labor statistics. Overall, total nonfarm payroll employment increased by 211,000 in November, with construction employment seeing a jump of 46,000. Over the past year, the Bureau says, construction employment has grown by 259,000.
GAP Window Wall to Adorn High Profile Philadelphia Project
December 4, 2015
Rodin Square, a unique $160 million Philadelphia construction project, is well under way, and Graham Architectural Products is all over it.
The mixed use development features a residential component with 293 mid- to high-end apartments, a retail portion totaling 85,000 …
NFRC Extends Product Certification Cycle to 5 Years
December 3, 2015
Beginning March 1, 2016, the National Fenestration Rating Council (NFRC) fenestration product certification cycle will be five years for products certified or recertified on or after that date.
Board members also decided the five-year certification cycle will not be retroactive. …