Graham's Aluminum Steel-Replica Window Shines Again
February 18, 2021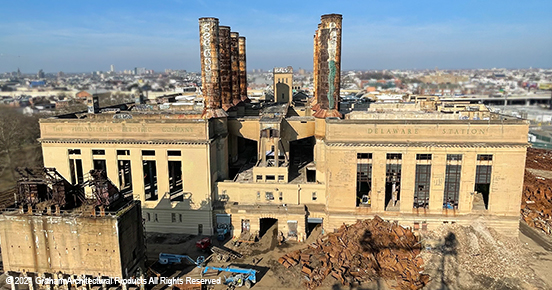 Historic Power Plant Becomes "The Battery"
Window installation at the Battery Project, along the Delaware river in Philadelphia, PA has begun.  The windows are only part of a much larger effort to convert the abandoned Philadelphia Electric Company's (PECO) Delaware Power Station into a mixed use property.
The PECO Delaware Power Station was put into operation in 1920 after several years of storied development, including some setbacks in design, and construction stoppages due to World War I. Work began in 1917 but shut down several months later due to lack of funds as investors were wary during wartime.  Two years later the project was breathed new life with solid funding and it was completed in the fall of 1920.  The building was designed in the "Beaux Arts" style to reflect a strong sense of power and stability that would support PECO's business for the future.  The plant underwent several renovations throughout the 20th century and was finally decommissioned in 2009.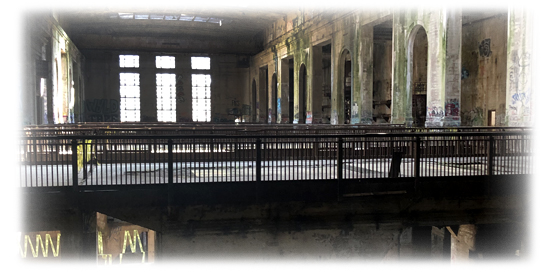 The site has been used in several films over the years owing to the appeal of its grand historic design and ominous interiors. It was added to the National Register of Historic Places in 2016. Since then there have been various proposals to redevelop the property which have only recently come to fruition. While final plans are still unclear, the project is expected to provide living, recreational, and office space for tenants.
The Windows
To meet the project's historic replication requirements, Graham is supplying over 1,140 of our SR6700 Steel Replica product to fill 482 openings. Fixed and awning windows with cam locks, 4-bar hinges, and limiting devices are being installed. Accessories include a custom unitized receptor and subsill, and a custom vertical mullion.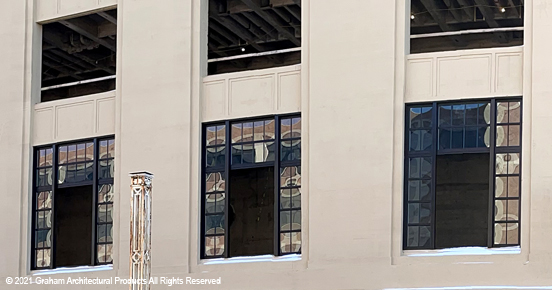 Graham windows partially installed
---
To find out more about the Graham window and door products used on this project, contact Jim Eisenbeis, Graham's Director of Marketing.
Dodge Momentum Index Uneven In January
February 15, 2021
Dodge Momentum Index Uneven In January
The Dodge Momentum Index gained 3.1% in January, moving to 139.4. This was up from the revised December reading of 135.2. The commercial component of the index was up 9.9%. The institutional component was …