Great Oaks Charter School — Bridgeport, CT
October 22, 2020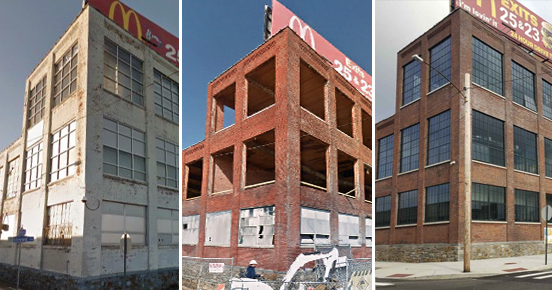 Revitalization Exhibits Graham's Expertise
The former site of the American Graphophone Company in Bridgeport, CT has been transformed into a mixed-use facility combining a charter school with adjacent residential space.
In the early 20th century the site was home to one of the most successful machine shops in the country, manufacturing phonographs, cylinders, and dictation machines under various brand names. The building is part of the Railroad Avenue Industrial District which is listed in the National Register of Historic Places.
When it came to replacing the windows, however, the developers hit a snag.
Graham had lost the bid and the windows provided by another manufacturer were resoundingly rejected by the Connecticut State Historic Preservation Office. This prompted meetings with the Graham team to ameliorate the situation.
Bill Wilder, Graham's Director of Technical sales began tweaking the designs and, working with our engineers, came up with what was needed structurally to meet performance in addition to the necessary historic requirements.
"Many of these windows are really quite large, even for us, and Bill worked diligently to meet the project and historic demands," said Kevin Sarr, a Graham representative involved with the project.
In the end Graham was able to provide more than 680 of our SR6700 Steel Replica windows. The project made use of both fixed and fixed/projected configurations to simulate the authentic look of the original steel factory windows. Visit the Crosskey Architects website to view photos of the project.
---
To find out more about the Graham window and door products used on this project, contact Jim Eisenbeis, Graham's Director of Marketing.
ABI Gains in September
October 21, 2020
Pace of Billings Decline Slows
The Architecture Billings Index score for September was 47.0, gaining 7 points after remaining at 40.0 from June through August.
"Despite the multi-family residential sector showing signs of improvement, overall business conditions are recovering at …
Shinola Hotel Receives Metamorphosis Awards
October 8, 2020
Shinola Hotel Awarded
The Shinola Hotel in Detroit, MI has won two of Retrofit Magazine's annual Metamorphosis Awards. The project was recognized in the "adaptive reuse" and "historic" categories, winning second place in both. Three other projects Graham was involved …
Dodge Momentum Index Up in September
October 7, 2020
DMI Makes Gains In September
The Dodge Momentum Index gained 3.7% in September, moving to 130.8. This was up from the revised August reading of 126.2. The commercial component of the index was up 3.9%. The institutional component was up …