New Series S3000 Thermally Strutted Tilt Double Hung
September 30, 2014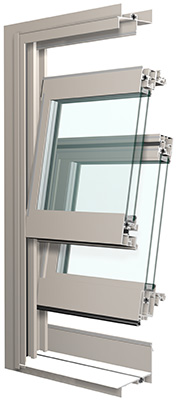 Graham Architectural Products (GAP) has recently added to its product line an architectural grade, tilt-in sash, double hung window incorporating a dual polyamide thermal strut for enhanced thermal performance. Additionally,  products that use a polyamide style thermal break can join together two separately finished interior and exterior aluminum extrusions. This allows separate finish selections for the interior and exterior: Not only different colors for the interior and exterior, but also different performance grades of finishes, which could provide a cost savings for the project.
Features of the S3000 are:
Block & tackle balances for superior operation
Extruded automatic head and sill latches
Mulls to 3 1/4″ frame fixed and operable products
Tilt sash for ease of cleaning
Steel pivot bar in Delrin® shoe
Maintenance-operated tilt-release mechanism
Full-length extruded lift handles
Options:
Applied-profile muntin grids
High-performance class V balances
White bronze sweep lock at meeting rail
Multiple units can utilize common jamb and continuous head & sill
Dual finishes available (Where color and/or finishes are different from outside to inside of window)
To go to the S3000 product page click here
Protect Your Reputation and Your Investment with Accurate Energy Ratings
September 23, 2014
Non NFRC certified commercial window energy ratings are frequently submitted for energy code compliance.  Documents submitted making reference to NFRC 100 and NFRC 200, which can vary widely, may be submitted as evidence of energy code compliance, but they may not meet the NFRC 100 and/or 200 requirements for the reasons described below.
If a …
Why Third Party Certification Should Be Your First Choice
September 18, 2014
When you buy windows, doors or skylights that are promoted as more energy efficient, you want to be sure they are going to perform as advertised. One way to make a more educated choice is to understand how they were certified.
With a number of certification and labeling programs in the marketplace, it's important to …
Design Activity in the Third Quarter Opens with a Bang
September 15, 2014
As of July, U.S. architecture firms have produced three straight months of accelerating gains in design billings. With a reading of 55.8 for the month (where any score above 50 signifies growth), the July reading reflects stronger gains in billings than any period since mid-2007. With solid monthly scores for new design contracts (at 54.9 …
GAP Announces Two New Hires
September 5, 2014
Graham Architectural Products (GAP) has strengthened its team with the addition of two key hires. GAP is the commercial and architectural grade window, door and curtain wall manufacturer that works with architects, building owners, installers and general contractors to achieve their most innovative design projects. The company is headquartered in York, PA.
As GAP's …