First-Ever FGIA Lifetime Achievement Award Presented to Graham's Georges Thiret
October 28, 2021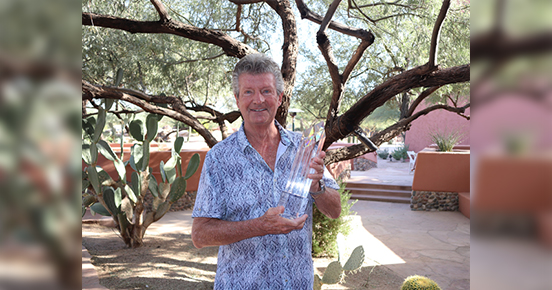 ---
First-Ever FGIA Lifetime Achievement Award Presented to Graham's Georges Thiret
The Fenestration and Glazing Industry Alliance (FGIA) has chosen Graham's own Georges Thiret as the recipient of its first-ever FGIA Lifetime Achievement Award. The ceremony took place at the 2021 FGIA Hybrid Fall Conference held in Phoenix, AZ.
The prestigious award recognizes Georges' outsized role in shaping the fenestration industry for more than 40 years. Georges took over as president and CEO of Graham Architectural Products in 1993, bringing in skilled associates to restructure the management and sales force. During his 14-½ years of presiding over Graham the company's fortunes rose significantly as it expanded from a relatively smaller operation to a leading force in the window industry. He stepped down as CEO of Graham in 2007 as part of a planned succession, but has continued to assist with sales in the western region with a focus on blast-resistant products.
Before coming to Graham, Georges had chaired the board of the American Architectural Manufacturers Association (AAMA) for three years. He's had multiple leadership roles within the organization from its early years through its more recent unification to form the Fenestration & Glazing Industry Alliance (FGIA). Georges was noted for his "significantly influential" contribution to the institution's evolution. He was also the 1998 recipient of the Outstanding Member Award.
In his acceptance remarks Georges reflected on the past while noting the promising future of the industry.
"It's hard to say goodbye. I want to thank everyone for their support. This has been a great ride. I've been involved since 1978. I've been proud to be Chairman twice, I've been on the board for a long time. Now it's time to make room for the younger, smarter, stronger. And I know this industry right now is producing those individuals. And this industry is very healthy."
Read more about the event at the FGIA website.
---
To learn more about how Graham can provide the fenestration solutions your next project requires, visit our contact page to get started.
Billings Continued to Increase in September
October 21, 2021
Billings Continued to Increase in September
The Architecture Billings Index score for September was 56.6, up one point from the August reading of 55.6.
"The ABI scores over the last eight months continue to be among the highest ever seen …
Dodge Momentum Index Gains 11% In September
October 7, 2021
Dodge Momentum Index Gains 11% In September
The Dodge Momentum Index gained 11% in September, moving to 164.9. This was up from the revised August score of 148.0. The commercial component of the index jumped 13% while the institutional component …