Specifying Windows for Adaptive Reuse
March 8, 2018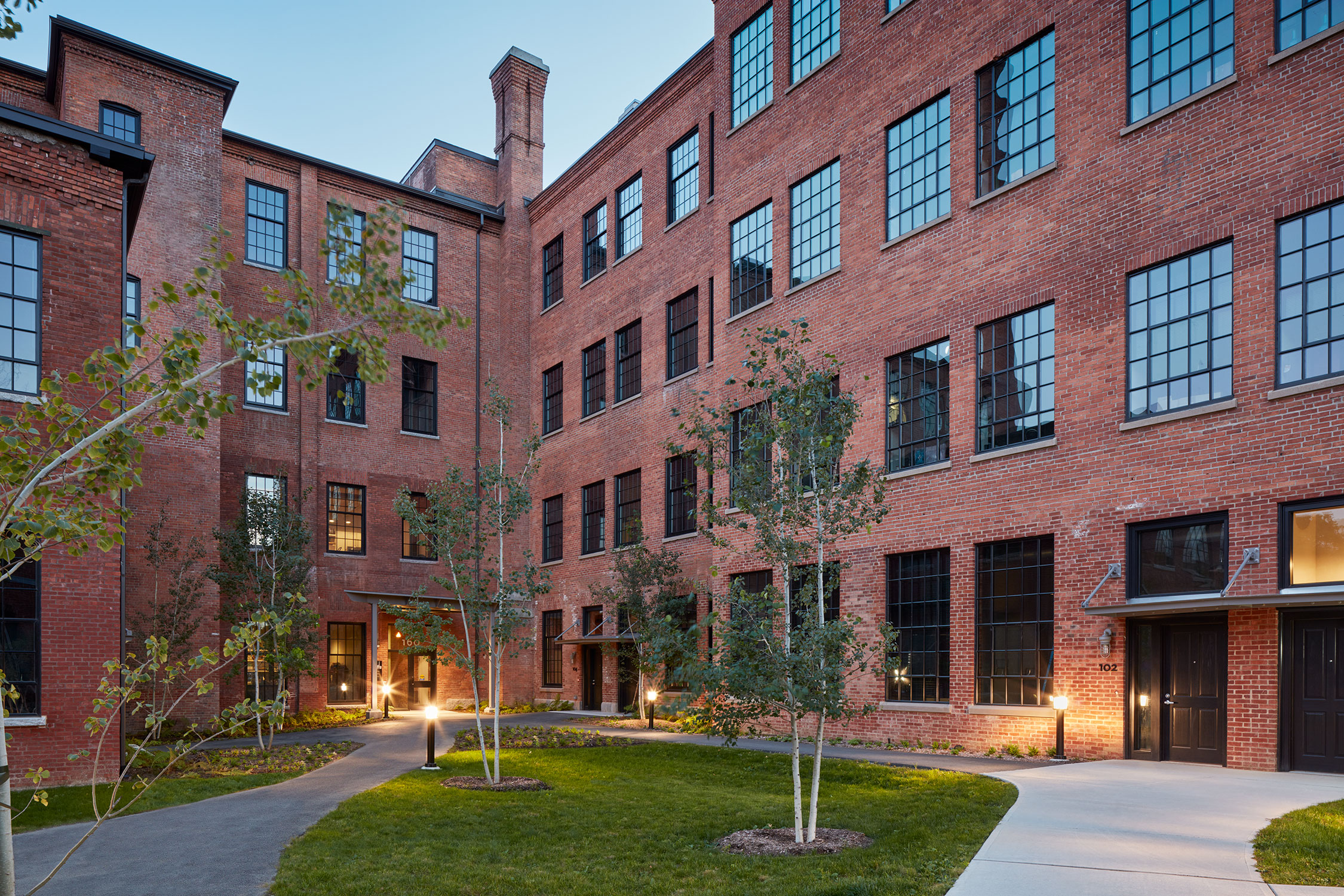 Six Things to Know When Specifying Windows
for the Adaptive Reuse of Historic Mills
---
Are you renovating an historic mill and hoping to secure National Park Service tax credits or other historic review board approvals? Then the following words of advice, originally published in "Commercial Architecture" magazine and republished with permission, are a must-read.
The expert counsel comes from Bill Wilder, Graham Architectural Products' director of technical sales, and Bill Homer, our New England area rep. Together, they have more than 40 years' experience in the historical window replication arena.
1.  Know what you're trying to replicate. If you're seeking approval from historic review boards, make sure you determine up-front exactly what you are trying to replicate. Do you want to go back to the original windows, or do you simply want to upgrade the existing windows? Is that going to be acceptable to the review boards? Usually – but not always – when historical requirements are involved, the review boards want to go back to the original construction of the building. This can involve forensic work, such as combing the archives to find photographs, or locating remnants of an original window system long since covered over by a retrofit system. At York, PA-based Graham Architectural Products, we typically perform this work in conjunction with the architect and the historical consultant.
2.  Know your review board(s). Not all boards see a project in the same way. Local historic review boards can sometimes be more demanding than state boards or the National Park Service. A window that passed review in one instance may not be approved under similar circumstances elsewhere. Experience makes historic window replication specialists key allies. This is also why historic replication window specialists prefer to meet with the owner/developer early in the process to design a product that will not only meet the historic criteria, but all the other project criteria. By knowing the standards early on, drawings can be submitted to the historic consultant who's helping them through that process of getting approved by the local and state boards, and park service. This can expedite approvals.
3.  Know the building's intended use.  Retail? Office space? Condos? Mixed-use? Senior housing? Very often, that kind of information allows a window consultant to offer suggestions as to fenestration design. Will the windows be fixed, or must they be operable? If the latter, does ADA compliance come into play? All of this adds to the challenge of replicating what often, by definition, were large and inefficient windows with large and efficient windows. Knowing the building's purpose early in the process can save time, headaches and money.
4.  Know your timeline. National Park Service tax credits are tied to a timeline: Your building must be occupied by a certain deadline in order to qualify. The clock is ticking and time is truly money. So it pays to have experience in your corner.
5.  Know the Code requirements. Does the regional code specify thermal performance? Do you have to meet a certain U-value? Does the code demand a certain amount of fresh air? Does it insist upon hurricane-impact standards? With the designs of some historic windows, you can only build so much efficiency into the replicated window, but review boards aren't particularly interested in your excuses. Ideally, the window consultant is involved from the beginning.
Just as important are detailed requirements from the architect and specifier. Here's an example:  The windows might have to meet a certain U-value, because by calculating how much heat transfer is going to go through that window, the mechanical engineers can determine the size of the HVAC system.
Energy efficiency is based on two key parameters: the glass component – how energy efficient is the glass – and the window design. With a southern exposure, you will likely want a glazing material that has a low solar heat gain coefficient, so the glass can restrict some of the heat from entering the building. On the northern side, where the sun is less of a factor, you're likely to want glazing with a higher solar heat gain coefficient. As for design, a fixed window (one that does not open), is inherently more thermally efficient than, say, a double-hung window, where both sashes operate. So sometimes if the code has stringent requirements for thermal performance, you may not be able to achieve that performance with a double-hung window. Fortunately, some companies, including Graham, can create fixed windows that simulate double hung windows, increasing the chances of meeting code requirements and passing historic review.
6.  Know what you plan to do with the original window. Replacing a window while using the existing frame increases the degree of difficulty in a historic replication job. In attempting to squeeze the window inside the old frame, you basically have to lap overtop of the frame with the window. That adds bulk to the sightline and can impact the likelihood of approval. That's where the review board subjectivity comes in. Sometimes it will pass. Sometimes you will be told to remove the existing frame. And yet other times, if you are able to articulate a compelling reason as to why you can't remove them, e.g., they're embedded into the concrete or some other reason that would stop the job, the review board may reconsider.
The bottom line is, the National Park Service and the state want to save buildings and see them restored and reused.  So if a task is cost-prohibitive to the point that it prevents a building from being saved, they will take that into consideration. Local review boards, on the other hand, do not always do so.
Give your project its best chance to succeed by making sure you have experienced, knowledgeable historic-window-replication specialists like Graham Architectural Products on your team.
---
We have been involved with many, many historic renovation projects over the years. Visit our historic replications gallery to view some of them.