We Made the Cover!
March 29, 2019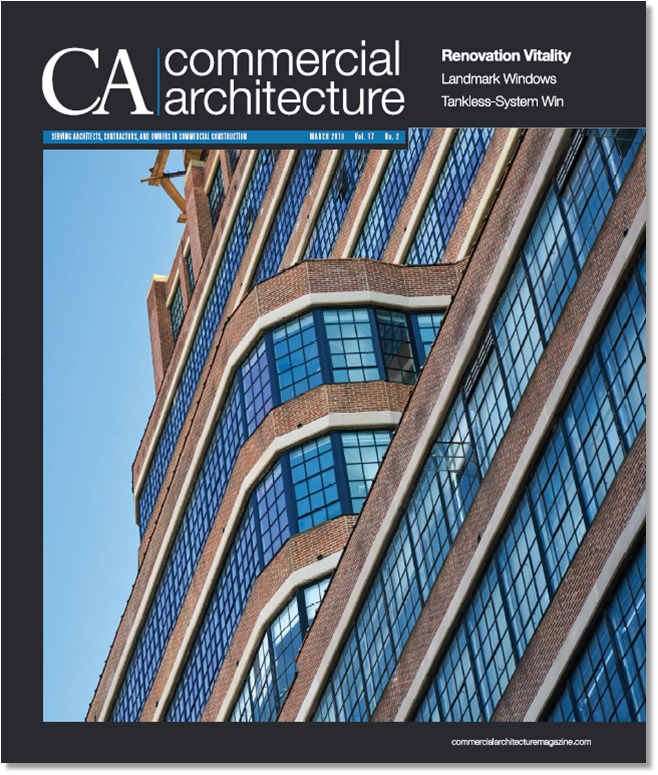 Front Page News: Graham and Starrett Lehigh
Commercial Architecture Features Starrett Lehigh and Graham in Cover Story
The March edition of Commercial Architecture magazine features a cover story on the Starrett Lehigh building's window replacement project.
Titled "Landmarked Building is a Window-Man's Dream," the article shares the story of Graham's integral role in the high-profile project at the iconic structure just off Manhattan's West Side Highway.
RXR Realty purchased the building in 2011 and immediately prioritized replacing the nearly 5,000 original steel windows which had served the 2.3 million SF structure since its construction in 1931.
The typical window stands 5 feet wide and 9 feet high, but replacement was a challenging task for reasons beyond sheer quantity and size.
Historic review board approvals were necessary since the building is a New York City Landmark. There was also a challenging design feature – the project's "Rubik's Cube" according to Michele Boddewyn, president of Boddewyn Gaynor Architects.
The building is wrapped in continuous bands of windows. Each of the windows within those bands features an operable vent, the placement of which alternates vertically from window to window, creating a bouncing ball effect (known as "floating vents") across each floor and façade.
Windows similar to these – steel, true divided windows with floating vents – had at one time been used in foundries, factories and mills all over America. Yet, no one had done a good job of recreating that floating vent for historic replication purposes.
Over time, the Graham design team was able to solve the puzzle, creating a radical design for narrow sightline true muntins that provided the strength necessary to support the floating vent. The result, Graham's SR6700, earned the approval of the New York City Landmarks Preservation Commission and respect nationwide.
In addition to receiving front cover recognition in a national magazine, the project will also be recognized in April with a Lucy G. Moses Preservation Award by the New York Landmarks Conservancy. The Moses Awards are the Conservancy's highest honors for outstanding preservation work.
---
To find out more about the Graham window and door products used on this project, contact Bruce Croak, Graham's marketing manager.