Getting Traction in Cincinnati
July 14, 2022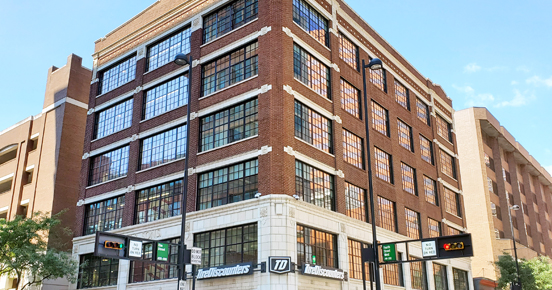 ---
Getting Traction in Cincinnati
The building on the corner of West Fourth and Elm Streets in Cincinnati has seen a lot of use, and thanks to recent development in this historic neighborhood its future is looking brighter than ever.
Tire Discounters, one of the largest tire retailers in the nation, opened its new headquarters there last summer after a 2-year renovation and Graham was the developers' choice for replicating the historic windows.
Original construction was completed in 1919 and the building was home to SP Nelson & Sons, an infant and children's wear company, through the late 1950's according to the Cincinnati Business Courier. Most notably it housed the headquarters of the Greater Cincinnati Foundation from 1999 until 2019. It's part of the West Fourth Street Historic District which was added to the National Register of Historic Places in 1976.
Different Strokes
The Greater Cincinnati Foundation made the decision to vacate the building and relocate their headquarters in 2018. Interestingly, the Foundation had determined the building's layout to be stifling the ability of departments to work cohesively — but the team from Tire Discounters saw just the opposite: a space where synergy could thrive. After renovating the building to meet its needs the company opened the new headquarters in summer of 2021.
The Windows
To replicate the look of the original steel windows, the architects worked with Graham to select a product to match the historic requirements while also providing the structural and thermal efficiency demanded of modern windows. With a 2.5″ frame depth and narrow 1-5/8″ sitelines, Graham's GS6600 Series Fixed window was a perfect fit.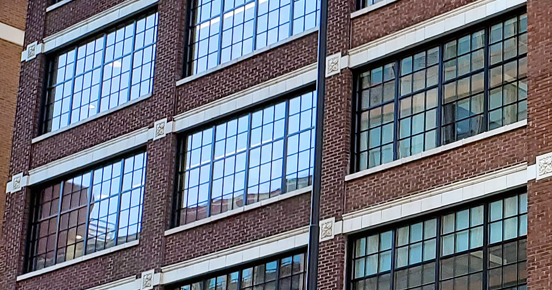 The appearance of the original steel windows was replicated 
To complete the appearance of true divided lites, designers went with a "triple grid" solution combining grids applied to the exterior of the glass, grids inside the glass unit, and a flat stock applied to the interior glass lite. Additional photography of the project is viewable on the architects' website.
---
To learn more about how Graham can provide the fenestration solutions your next project requires, visit our contact page to get started.