Graham Curtain Wall Systems Proud of United Center Work
August 29, 2016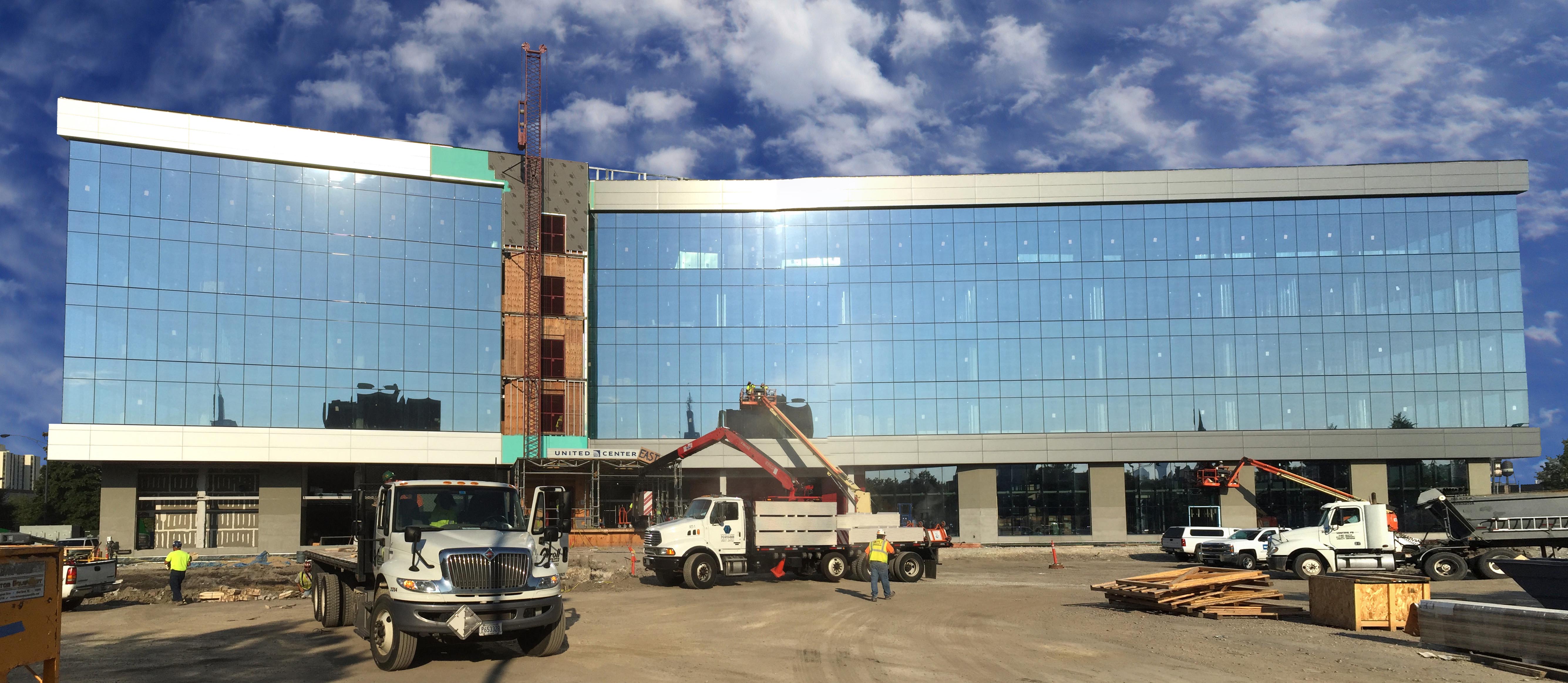 Joe Brown, Graham Curtain Wall Systems' manager of project management, calls it "a signature project in a signature city."
Chicago's United Center – a.k.a., the House that Jordan Built – has welcomed more than 40 million people since its 1994 opening. It has hosted Bulls basketball games, Blackhawks hockey matches, concerts featuring the biggest names in music, and high profile events such as the Men's NCAA Basketball Tournament and the Democratic National Convention.
Upon completion of a project currently under construction, a 25,000-square-foot glass entryway will connect the United Center to a new 6-story, 190,000-square-foot office building that will house employees of the Bulls and Blackhawks, United Center staff, and a new team store.
Graham and Brown share an enormous sense of accomplishment for the company's role. Graham designed and manufactured 42,000 square feet of unitized curtain wall for this high profile addition to the largest arena in the United States. The company is especially proud given how well things have gone.
"The architects (HOK) had a great vision and we've been able to help them see their vision through to the end," Brown said.
"And our direct customer – Crown-Corr – has been extremely happy, too," he added. "Our curtain wall has passed numerous field water tests, both static and dynamic and it just passed the dynamic water test – which is the big one – all with zero issues. The frames are coming together really nice. The crew in the field commented that these frames are dropping together like butter."
Graham also provided 4,100 square feet of 2500 Series Pressure Wall, 2,000 lineal feet of stool trim, and 71 doors with hardware.
Like any project, this one had its unique challenges, Brown said, in particular a highly variable concrete base that required some "engineering-on-the-fly." He added, "Our engineering staff was quickly able to come up with solutions and get them in certified compliance so they could keep moving forward."
While unitized curtain wall is typically hung on the exterior of the building, Brown noted that the United Center's atrium entrance way was designed using Graham unitized curtain wall on the interior, too.
"What unitized brings to the table is the speed at which it can be installed, so they were able to finish off the interior walls of the atrium and close in the building rapidly," Brown explained.
In this case, unitized curtain wall is also bringing a sense of wonder. "What it does here is unify the exterior and interior of the building, with the effect being, it kind of confuses you: 'Am I inside or am I outside?' It's kind of playful. It's fun. It's designed to make you go, 'Wow!'
"And you will, because it's going to be cool."