Analysts Say Construction Outlook Is Good
August 25, 2015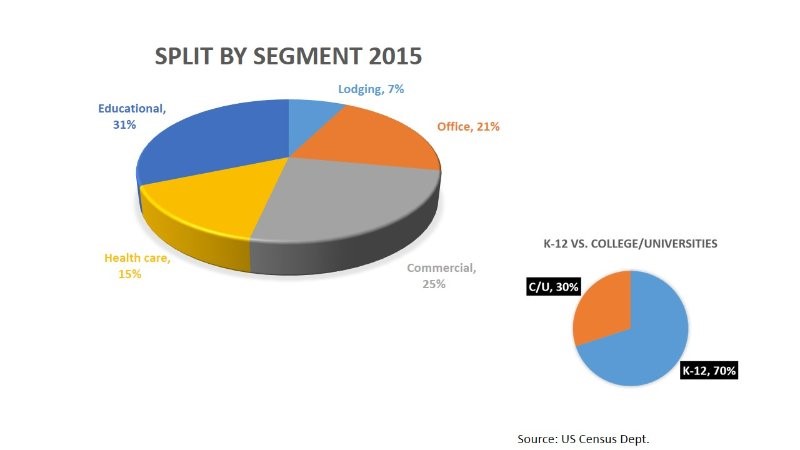 The non-residential construction outlook looks good – very good – according to two respected industry voices.
Doug Bevill, who writes for The Blue Book Building and Construction Network, and Kermit Baker, Hon. AIA, chief economist for the American Institute of Architects, both see a rosy picture. "Expect the second half of 2015 as well as 2016 to be positive for construction activity," Baker said.
Beville touted year-over-year growth of 15 percent for the first two quarters of 2015, saying it's the first time since 2009 that the industry has shown such robust improvement. And he added, "All five main sectors of architectural construction (are) showing positive gains."
He feels the industry has turned an important corner, due specifically to a 4 percent increase in the education sector – the largest segment in the architectural arena, representing 31 percent of construction spending. He also takes heart in an increasing number of healthcare related projects in design and currently under construction.
Much of the good news, Bevill noted, comes despite "challenging weather conditions across major regions of the country so far this year."
Baker, meanwhile, referred to a pair of AIA indices in making his case. The Architecture Billing Index, an index reflecting monthly work-on-the-boards, is said to lead nonresidential construction activity by about 11 months. June's reading of 55.7 "represents the strongest growth in design activity since mid-2007," he said.
Meanwhile, AIA's new design contracts index, which measures new project activity coming into architecture firms, has posted readings that "have generally been at or above those of the ABI over the past 12 months" which he described as "very healthy."
Baker also noted that lending activity had increased since the last report.
If there's a cloud in the forecast, it's the dearth of skilled construction employees. Bevill explained, "With construction unemployment reaching as high as 23 percent in 2010, much of the available labor is no longer in the workforce. This is one of the largest problems facing contractors today: not enough skilled workers."