Architecture Billings Index Advances In November
December 21, 2016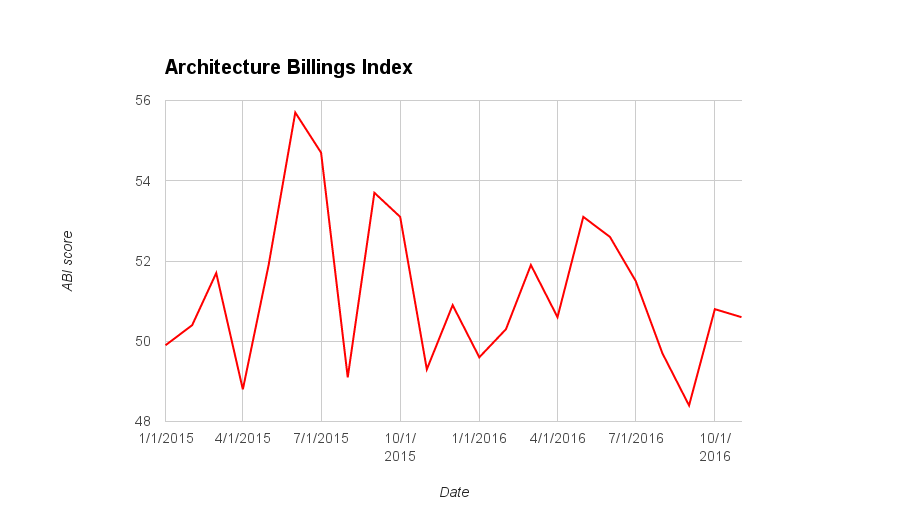 For the second month in a row, the Architecture Billings Index showed a small increase in demand for design services.
Following the contraction revealed in August and September's Index readings, November's 50.6 showed little change from October's 50.8. 
The ABI reflects the nine-to-12-month lead time between architecture billings and construction spending. Any score above 50 indicates an increase in billings.
Broken out by sector, multifamily residential came in at 51.7, followed by mixed-practice at 51.3, commercial/industrial at 50.4 and institutional at 49.5.
Market uncertainty could be playing a role in the flattened numbers, said American Institute of Architects Chief Economist Kermit Baker, Hon. AIA, PhD.
"Without many details of the policies proposed, it's still too early to tell the likely impact of the programs of the new administration," he said. "However, architects will be among the first to see what new construction projects materialize and what current ones get delayed or cancelled, so the coming months should tell us a lot about the future direction of the construction market."
Other industry voices are a little more bullish in their outlooks. Dodge Data & Analytics is forecasting a 5 percent increase in starts next year, with Commercial starts up 6 percent and Institutional starts up 10 percent. Meanwhile, ConstructConnect is calling for a 6.8 percent overall rise.