Construction Indicator Nudges Higher In May
June 9, 2016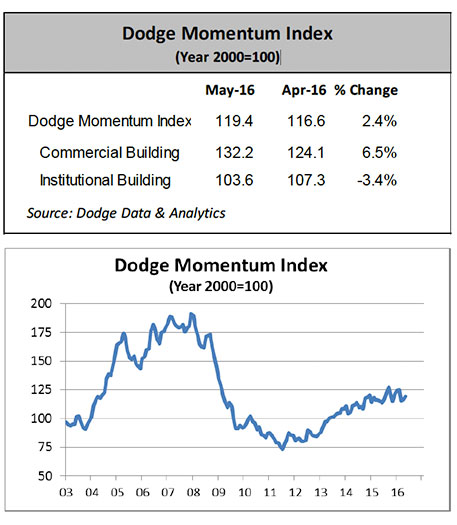 For the construction industry, the good news keeps coming, as the Dodge Momentum Index rose 2.4 percent in May, riding a bump in activity in the commercial sector.
The Momentum Index is a monthly measure of the first (or initial) report for nonresidential building projects in planning, which have been shown to lead construction spending for nonresidential buildings by a full year.
Commercial projects entering the planning stage increased 6.5 percent, which more than offset a 3.4 percent dip in the institutional sector.
Overall, the Index is 3.6 percent higher than it was a year ago, which according to Dodge, suggests "further growth in construction activity in 2016 despite the subdued first quarter GDP report and signs that lending standards are beginning to tighten for commercial projects."
However, institutional planning is 1.3 percent lower than it was a year ago, as planning has calmed down from the elevated activity reported in late 2015 and early 2016.
In other economic news, May's employment numbers in the construction industry showed little change from April.