Construction Industry Gaining Strength
January 9, 2015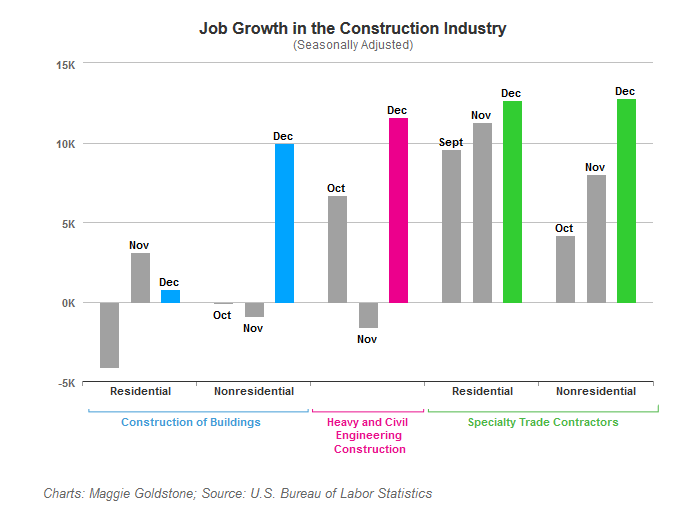 A pair of fresh reports bode well for the construction industry. Job growth surged in December, 2014, as construction added 48,000 jobs, doubling November's growth and making it the industry's second strongest hiring month of the year.
That was among the highlights in the U.S. Bureau of Labor Statistics' December employment report, released today. The Wall Street Journal called the construction numbers, "a decent pickup from recent months and a possible sign of growing investment in the U.S."
Also, the Dodge Momentum Index increased 4.0 to 128.7% in December from a revised 123.8 in November, according to a report released today by Dodge Data & Analytics.
The index is a monthly measure of the first (or initial) report for nonresidential building projects in planning, which have been shown to lead construction spending for nonresidential buildings by a full year.  The Index is currently at its highest reading since February 2009 and is 1 percent higher than one year ago. According to compilers of the report, the increases seen in the Index in 2014 are a signal that the construction recovery will continue into 2015.
As for the jobs report, the American economy added 252,000 non-farm jobs in the month, about 100,000 fewer than November's revised number of 353,000, but enough to lower the nation's unemployment rate from 5.8% to 5.6%.
According to a post on architectmagazine.com, "All of the construction industry sectors experienced positive growth. Residential construction added 13,500 jobs, and nonresidential construction added 22,800 jobs. Construction of buildings added 10,800 jobs, heavy and civil engineering construction added 11,600 jobs, and specialty trade contractors added 25,500 jobs."