Construction Numbers Strong In February
March 7, 2016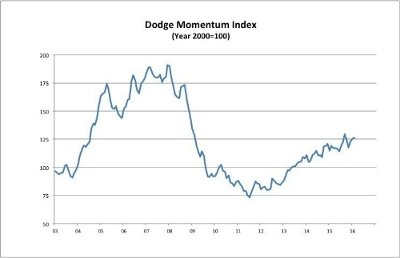 February's economic numbers provided a double dose of good news for the construction industry.
The Dodge Momentum Index, a monthly measure of the first (or initial) report for nonresidential building projects in planning, rose 0.5 percent in February, the third consecutive month-to-month gain for the Index.
A 1 percent jump in commercial planning more than made up for a 0.1 percent decline in institutional planning.
Reports for building projects in planning have been shown to lead construction spending for nonresidential buildings by a full year, according to Dodge. Dodge also noted that commercial planning has made a moderate recovery following a decline late last year, while institutional planning continues to be above last year's levels.
Meanwhile, the construction industry added 19,000 jobs in February, bringing the 12-month increase to 253,000, according to the Bureau of Labor Statistics. Overall, the nation's nonfarm payroll employment increased by 242,000 in February, as the unemployment rate held steady at 4.9 percent.