Construction Planning Rebounds in October
November 8, 2016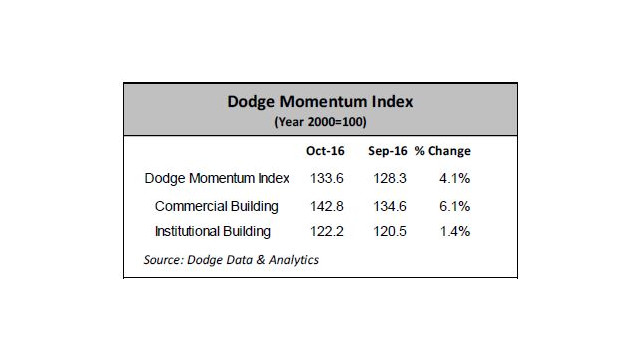 Construction planning rebounded in October as the Dodge Momentum Index climbed 4.1 percent from its revised September reading.
The Index, according to Dodge, is a monthly measure of the first (or initial) report for nonresidential building projects in planning. These reports have been shown to lead construction spending for nonresidential buildings by a full year.
The Index's commercial component rose 6.1 percent in October, which, according to Dodge's press release, indicates that "despite being in a more mature phase of the building cycle, commercial construction has room for further growth in the coming months." Meanwhile, the institutional component inched up 1.4 percent.
For the year, commercial planning is up 20 percent over last year, while institutional planning is 10 percent higher than a year ago.
In other economic news, the most recent jobs report from the Bureau of Labor Statistics stated that employment in the construction industry changed little in October.