Construction Spending Shows Continued Strength
July 8, 2016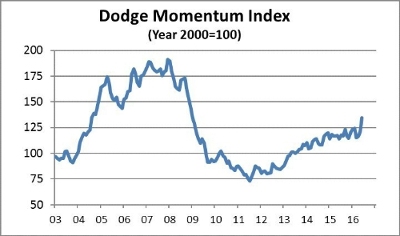 The Dodge Momentum Index jumped 11.2 percent in June, thanks to a 14.6 percent increase in institutional projects and a 7.7 percent increase in pending commercial projects. With the advance, the overall Index is now at its highest level since early-2009.
The Momentum Index is a monthly measure of the first (or initial) report for nonresidential building projects in planning, which have been shown to lead construction spending for nonresidential buildings by a full year.
According to Dodge, the dramatic spike in commercial planning reports is especially good news "since that component of the Index had been moving in a fairly horizontal fashion since late-2014." Meanwhile, with the increase in institutional work, that component returned to levels last approached earlier this year.
Although the Index has returned to an early-2009 level, Dodge notes that "…it has proven to be volatile on a month-to-month basis over the last two years. This unpredictability may continue through the remainder of the year, given the uncertainty related to the health of the U.S. economy and the upcoming November elections."
In other economic news, the U.S. Bureau of Labor Statistics announced today that total nonfarm payroll employment increased by 287,000 in June, and the unemployment rate rose to 4.9 percent. Employment in construction showed little change.