Data Bodes Well for Construction Spending into 2016
September 10, 2015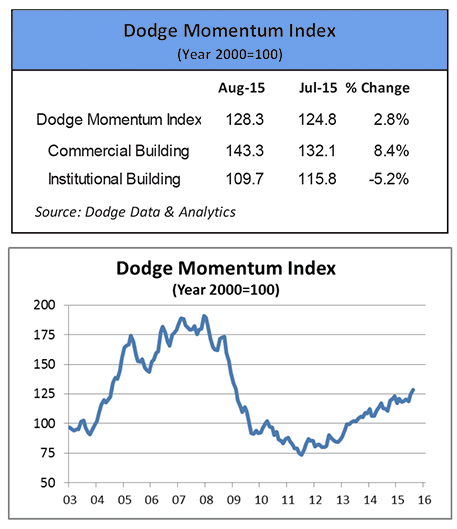 A strong August increase in the Dodge Momentum Index "bodes well for construction spending through the first half of 2016," according to information recently released by Dodge Data & Analytics.
The Momentum Index is a monthly measure of the first (or initial) report for nonresidential building projects in planning. These reports have been shown to lead construction spending for nonresidential buildings by a full year.
The Index increased 2.8 percent in August, jumping to 128.3 from its July reading of 124.8, according to Dodge Data & Analytics. The increase was attributed to a strong gain in new plans for commercial buildings, up 8.4 percent from July. Meanwhile, the institutional building sector contracted 5.2 percent following a surge of July planning activity. On a year-over-year basis, Dodge said, commercial planning is 20.6 percent higher, while institutional planning is up 5.1 percent.
Dodge concluded its monthly report by saying this higher trend follows a weak start to the year, and reflects improving economic data and real estate market fundamentals.
In related news, July's construction industry employment numbers showed little change, according to the Bureau of Labor Statistics.