Despite August Dip, DMI Up Year-Over-Year
September 11, 2017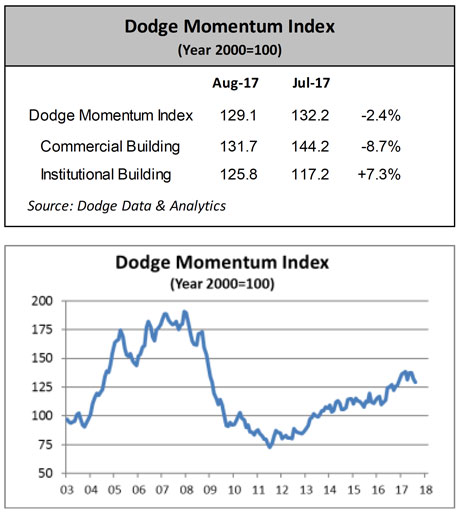 The Dodge Momentum Index (DMI) dropped for a second consecutive month in August, falling 2.4 percent.
The Index is a monthly measure of the first (or initial) report for nonresidential building projects in planning. These have been shown to lead construction spending for nonresidential buildings by a full year.
August's decline reflects an 8.7 percent dip commercial planning. Although commercial planning has enjoyed a broad rise over the past year, it has fallen three consecutive months.
Meanwhile, the institutional component rose 7.3 percent, a significant rebound from July's 9.1 percent drop.
On year-over-year basis, the Index is up 0.3 percent. Commercial planning is down 1.2 percent versus last August, while Institutional planning is up 2.3 percent.
In other economic news, the August jobs report, issued by the Bureau of Labor Statistics, showed an increase of 28,000 jobs in the construction sector. The number had shown little change over the previous five months.