DMI Registers September Decline
October 9, 2017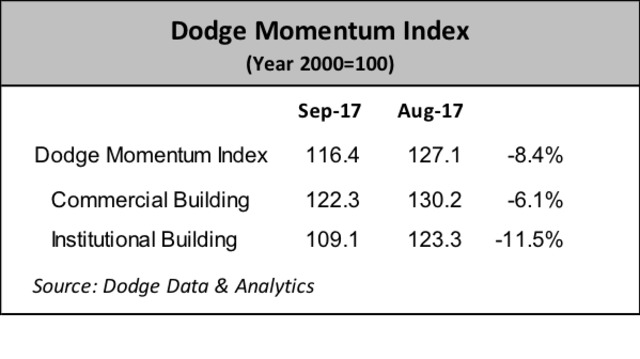 The Dodge Momentum Index dropped in September, falling 8.4 percent. The institutional component led the way with a monthly decline of 11.5 percent.
The Momentum Index is "a monthly measure of the first (or initial) report of nonresidential building projects in planning, which have been shown to lead construction spending for nonresidential buildings by a full year."
According to Dodge Analytics, which compiles the Index, "while the overall Momentum Index has lost ground for four consecutive months, this should not be seen, in and of itself, as a predictor of a turn in building markets." In support of its claim, Dodge pointed to past strong rebounds from "similar significant declines," adding, "economic growth remains solid and building market fundamentals are supportive of further growth in construction activity."
The commercial component registered a drop of 6.1 percent in September.