DMI Shows Strong October Recovery
November 7, 2017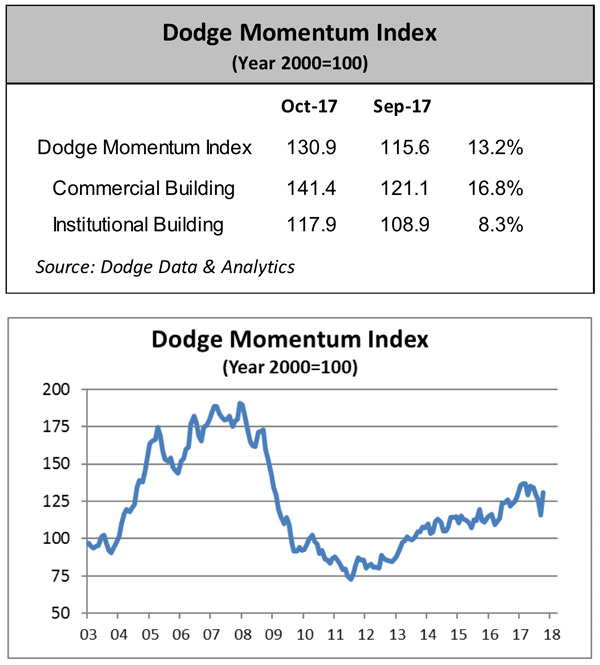 Dodge Momentum Index rebounded in a big way in October
---
After three consecutive months of decline, the Dodge Momentum Index rebounded significantly.
The Index is a monthly measure of the first (or initial) report for nonresidential building projects in planning, which have been shown to lead construction spending for nonresidential buildings by a full year.
It is compiled by Dodge Data & Analytics, which bills itself as North America's leading provider of analytics and software-based workflow integration solutions for the construction industry.
According to a release, "The move higher in October nearly reversed the erosion of the past … months (including September's 7.9% decline)."
The most recent report showed a 16.8 percent advance in the commercial portion of the index, while the institutional portion climbed 8.3 percent.
Year-over-year, the Index is 6.1 percent higher, with commercial showing growth of 5.5 percent and institutional standing 6.9 percent higher.
According to Dodge, "October's increase supports the belief that building activity has further room to grow during this cycle. While month-to-month activity could continue to be volatile, there are enough projects in the pipeline to sustain growth into 2018."
In other economic news, the October jobs report from the Bureau of Labor Statistics showed an increase of 11,000 construction jobs during the month. For the year, construction has added an average of 15,000 jobs per month.