Dodge Momentum Index Advances Again
March 8, 2017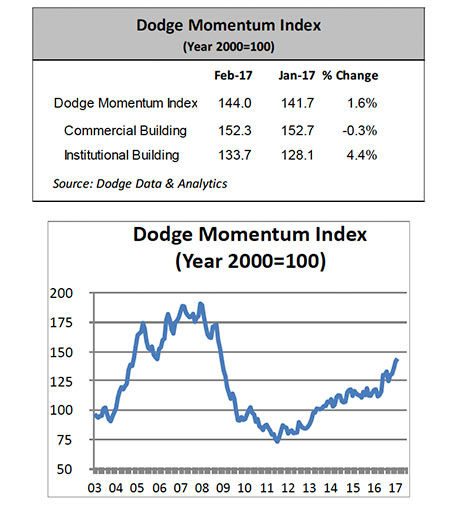 The Dodge Momentum Index rose 1.6 percent in February, marking its fifth consecutive monthly advance.
The Momentum Index is a monthly measure of the first (or initial) report for nonresidential building projects in planning, which have been shown to lead construction spending for nonresidential buildings by a full year.
Institutional planning jumped 4.4 percent in February, offsetting an 0.3 percent decrease in commercial planning.
According to Dodge, the underlying components continue to be volatile on a month-to-month basis with large projects swaying the data.
However, the company said in its release, the overall trend is rising. On a year-over-year basis the Momentum Index is 22 percent higher, with commercial planning up 28 percent and institutional planning ahead by 15 percent. This, according to Dodge, suggests that construction activity will continue to see further growth as the year progresses.