Dodge Momentum Index at Eight-Year High
January 10, 2017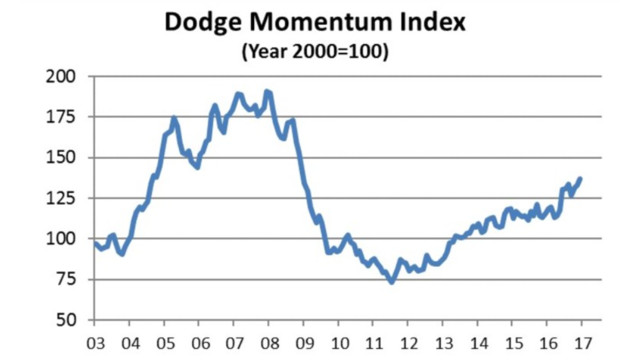 The Dodge Momentum Index jumped in December to end the year on an eight-year high.
The Momentum Index is a monthly measure of the first (or initial) report for nonresidential building projects in planning. They have been shown to lead construction spending for nonresidential buildings by a full year.
The Index advanced 2.9 percent in December to 136.7 (2000=100) from its revised November reading of 132.8, with its commercial component climbing 5.7 percent. That commercial leap helped to overcome a drop of 1.7 percent in the institutional component.
Following its upward trend over the course of 2016, the Momentum Index is now at an eight-year high. According to Wells Fargo Securities, the Momentum Index is up 17 percent year-over-year in December. Nevertheless, it is more than 25 percent below its previous peak reached at the end of 2007.
After ending 2015 in a lull, commercial planning intentions posted remarkable strength in 2016, climbing 38 percent over the year," said a release issued by Dodge Data & Analytics. "Meanwhile, institutional planning settled back in 2016, losing 6 percent after a strong 2015. This suggests that commercial construction activity has more room to grow in 2017 despite being at a more mature phase of its cycle, while planning in the institutional sector has yet to see the benefit of the numerous education-related bond measures passed in recent years."