Dodge Momentum Index Continues Its Advance
July 11, 2017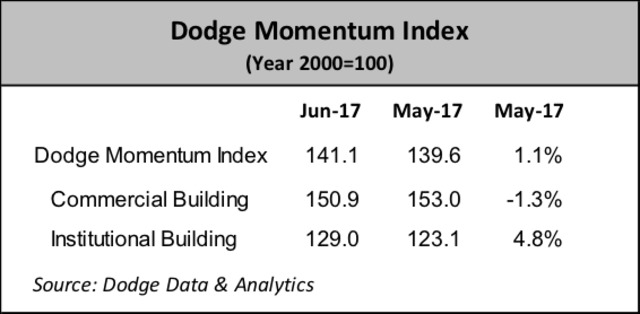 The Dodge Momentum Index advanced again in June, led by a 4.8 percent increase in the institutional component.
Overall, the Momentum Index crept up 1.1 percent to 141.1, from its revised May reading of 139.6. The Index is a monthly measure of the first (or initial) report for nonresidential building projects in planning. These reports have been shown to lead construction spending for nonresidential buildings by a full year.
The Index's institutional component has climbed 9.5 percent over the past year. And despite a 1.3 percent drop in June, the Index's commercial component is 11.8 percent higher than it was a year ago.
The overall rising trend for both sectors indicates that construction activity will remain healthy through the end of the year, analysts said.
Meanwhile, according to the U.S. Bureau of Labor Statistics, the construction industry added 16,000 jobs in June, reflecting year-over-year growth of 3.1 percent. The non-residential construction sector added 10,300 of those jobs.