Dodge Momentum Index Incurs Dip In April
May 8, 2017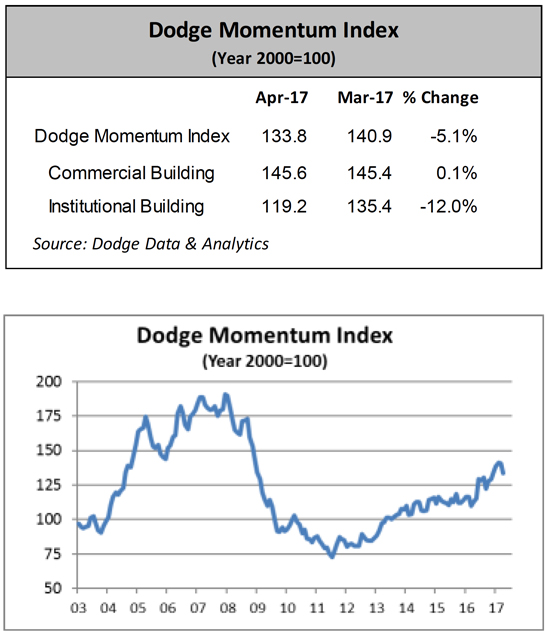 An off month in the Institutional sector led to dip in the Dodge Momentum Index for April.
The Momentum Index is a monthly measure of the initial report for nonresidential building projects in planning. These reports have been shown to lead construction spending for nonresidential buildings by a full year.
The Index fell 5.1% in April despite a 0.1 percent rise in the commercial component. This was more than offset by a 12 percent drop in Institutional planning.
According to a release issued by Dodge, "Since early 2016, the Momentum Index has gained substantial ground, albeit in a saw-tooth pattern, increasing by over 20 percent through March this year. Despite April's decline, the broad upward trend for the Momentum Index remains present, suggesting that construction activity still has further room to grow in 2017."
Dodge offered some historical perspective, adding, "The planning data's strengthening over the past year stands in stark contrast to the 2014-2015 period, when the Momentum Index saw little improvement, gaining just 4.0 percent in that 24-month span."
In other economic news, Friday's labor report from the Bureau of Labor Statistics showed little change in the construction industry's labor rate.