Dodge Momentum Index Registers May Jump
June 9, 2017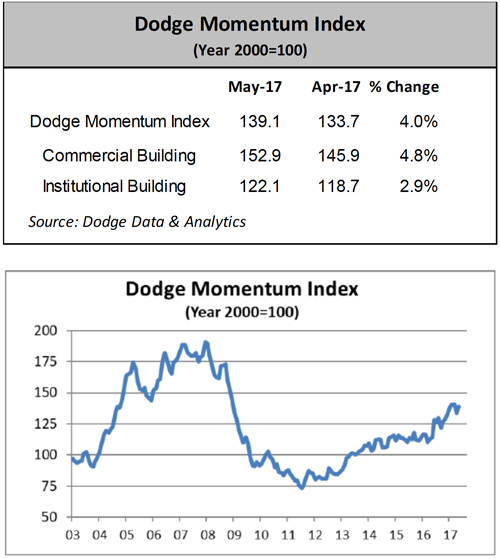 Led by a burst in the commercial component, the Dodge Momentum Index jumped 4 percent in May.
The Momentum Index is a monthly measure of the first (or initial) report for nonresidential building projects in planning. These have been shown to lead construction spending by 9 to 12 months.
May's advance, coming on the heels of April's dip in the Index, featured a 4.8 percent increase in the commercial sector and left the commercial measure at an eight-and-a-half year high. According to Dodge, this suggests that "construction activity for commercial buildings will continue to rise over the next year, even with signs of decelerating improvement in market fundamentals (occupancies and rents)."
Meanwhile, the institutional component regained some momentum, after dipping 12 percent in April, by registering a bump of 2.9 percent in May. Through the first three months of 2017, the institutional component had shown a gain of 21 percent.
In other economic news, the construction employment numbers showed little change during the month, according to the Bureau of Labor Statistics.