Dodge Momentum Index Suffers September Slip
October 10, 2016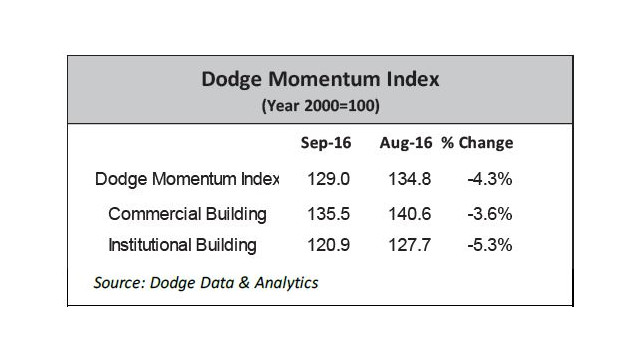 The Dodge Momentum Index slipped 4.3 percent in September with weakness reflected in both the commercial and institutional sectors.
The index, from Dodge Data & Analytics, is a monthly measure of the first report for nonresidential building projects in planning, which have been shown to lead construction spending for nonresidential buildings by a full year.
A 5.3 percent drop in institutional planning coupled with a 3.6 percent decrease in commercial planning led to the decline, which snapped a streak of five consecutive months of gains.
The index remains 5.1 percent higher than a year ago, with the institutional component up 5.4 percent over its September 2015 reading, and the commercial component up 4.9 percent. According to Dodge, this indicates developers continue to move plans forward despite economic and political uncertainty.
In other economic news, the U.S. Bureau of Labor Statistics reported last week that while total nonfarm payroll employment increased by 156,000 in September, figures for the construction sector showed little change.