Fast Recovery for Fire Damaged PA Outlet Building
October 27, 2015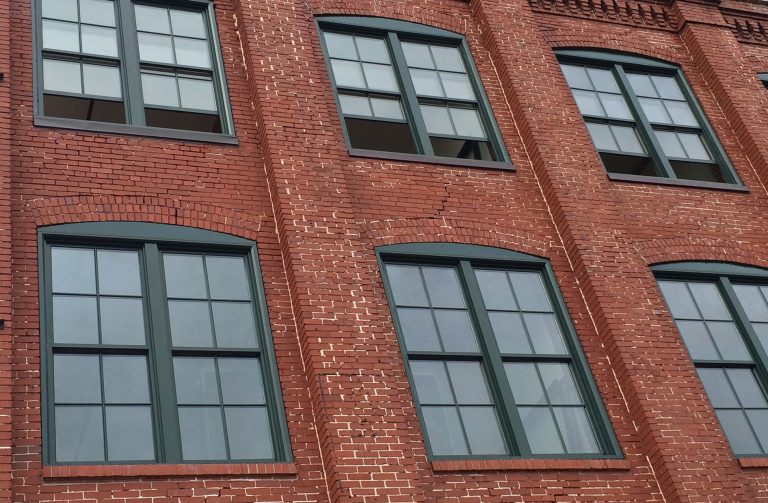 The ambitious renovation of the Big Mill outlet building, in Reading, PA, is approaching completion. Again.
We were here once before, little more than a year ago. But in the early morning hours of Oct. 18, 2014, about two weeks before the new apartments in the six-story building's top four floors were to be opened to inspection by potential tenants, a fire was reported. By the time firemen from seven municipalities had doused the flames, an estimated $10 million in damage had been done.
Now, though, the building is on its way back and Graham is proud to be a part of it.
An important milestone recently occurred: the arrival and installation of 1,200 Graham 2000H Series historic single hung windows.
Asked, "Why are the windows so important?" Developer Alan W. Shuman told the Reading Eagle, "Because in all my other projects, the general public doesn't feel anything is happening until they see the windows."
When construction is complete, the bottom two floors will have 42,000 square feet of retail space, including, reports say, a farmers market, a restaurant, and a medical group. The top four floors will house 69 apartments. Most of the residential spaces are 1,100-square-foot, two-bedroom units. There are a few studio apartments in the mix, too.
Shuman told the Eagle, he's a month away from seeking occupancy permits.
The building, listed on the National Register of Historic Places, was opened in 1904 as the Curtis, Jones & Co. shoe factory. Eventually it became part of the Reading Outlet Center, but the stores there closed in 2001. It was purchased in 2006 by a development company that twice had redevelopment deals fall through before it was finally able to move forward in 2012.
For more information on this or other Graham projects or capabilities, contact Bruce Croak, Graham Architectural Products' technical marketing manager, at 717-849-8100.