Graham and Graboyes Team Up On Award-Winning Projects
April 23, 2018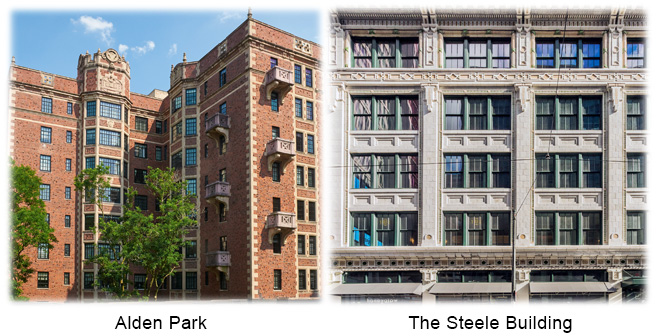 Two historic projects featuring windows from Graham Architectural Products will be among the Grand Jury Award winners when the Preservation Alliance for Greater Philadelphia holds its 25th annual Preservation Achievement Awards in June.
The Awards recognize people and projects that exemplify outstanding achievement in the field of historic preservation.
Both the Steele Building and Alden Park reflect the expertise and craftsmanship of Graboyes Commercial Window Company and Graham.
Built in 1926, Alden Park is the one-time home of luminaries like baseball legend Connie Mack and the family of Grace Kelly. It is on the National Register of Historic Places and the Philadelphia Register of Historic Places.
Graham and Graboyes collaborated on the replacement of 6,688 deteriorating steel windows with Graham's SR6700 series windows.
Their work is highlighted in a case study in the Architectural Glass Institute's website.  It says the project wrapped up four months ahead of schedule and quotes Graboyes Chief Estimator Bill Steedle as saying, "I've worked in retrofit windows for 40 years. I've never seen a job go as well as this. We had a good customer, a good GC, and a good window supplier."
Lyle Suess, AIA, LEED AP, senior project manager for the architectural firm BartonPartners, added, "Graboyes worked diligently and creatively with us to arrive at solutions that were not only cost-effective and well-suited for the existing conditions, but also met strict NPS (National Park Service) requirements for historic accuracy. Their work with Graham Architectural Products resulted in a visually striking historic restoration that also dramatically improved interior conditions and energy efficiency, as well as restored window operability – a true success of epic proportions."
Graboyes and Graham also helped restore the Steele Building to its original 1912 glory. The project features 60 of Graham's 2200 Series double hung windows and 80 of Graham's SR6700 Series projected over fixed windows.
Originally, the Steele Building was site of Horn & Hardart's Baking Company, which created the Automat, America's first major fast food chain. Guests would slip nickels into a slot to purchase hot or cold fresh food from vending machines.