Graham Completes Tall Order for the Cigar Factory
September 11, 2015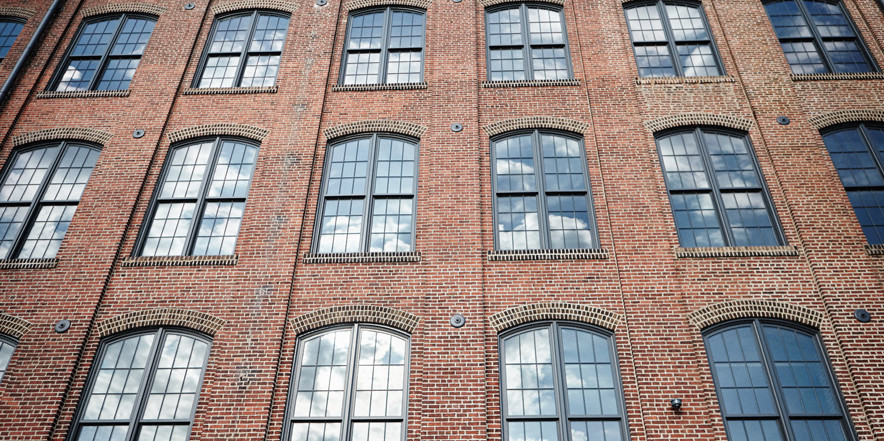 Graham Architectural Products (GAP) recently wrapped up its part in the historic renovation of an iconic building in Charleston, SC.  About 70 percent of the building is currently leased and tenants are moving in quickly.
It was built in 1881 as a cotton mill. But in the early 1900s the five-story, 244,000-square-foot structure on the Charleston peninsula was converted into a factory for the American Tobacco Company. Though cigar production ceased in the 1970s, the building is still known as the Cigar Factory.
Since 2008, it has stood empty, but this summer it opened its doors to a new beginning. And already it is serving as home to a varied array of tenants, with more to come.
Windows from Graham played a key role in the renovation project, but it was a tall order. Literally.
The owners were seeking tax credits, which required National Park Service (NPS) approvals. Further, the regional code calls for hurricane resistant windows, and many of the 341 window openings were over 10 feet tall – a very large window for hurricane impact.
GAP satisfied NPS scrutiny, overcame the significant hurricane impact engineering challenge, and met a very tight deadline by customizing its HI 2200H Series Single Hung and HI 6800 Series Fixed windows.
The new, thermally broken, aluminum historic replication windows are striking. "It's a terrific building and we're proud to have been a part of the team," said Tim Cooper, Graham's southeast regional sales manager.
The picture accompanying this post was taken by Jeff Holt with Fall + Empire.