Graham Helps With Dramatic Transformation of Building 128, Brooklyn Navy Yard
August 18, 2017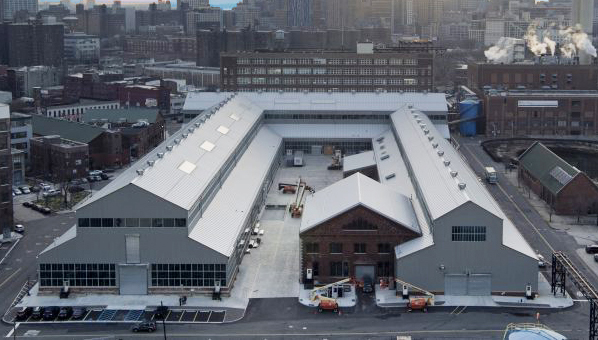 Maurice Benor, Graham's New York sales rep, remembers seeing Building 128 for the first time.
This entirely glass-clad building, which Marvel Architects says was "once a stunning cathedral to ship manufacture," had fallen into steep decline.
"The building was totally dilapidated," Maurice recalls. "It was almost gone. It was literally rotting away – it was just a skeleton. When we started the job there were no points to measure off. There was nothing there, no knee walls, there was hardly anything."

Incredibly enough, it recently reopened as the multidisciplinary New Lab innovation hub, yet another step forward in the evolution of the Brooklyn Navy Yard. The green research and manufacturing center preserves the structure of the grand historic hangar, where long ago, according to Benor, ships were built, or drydocked and refurbished.
And it's still covered in glass, thanks to Graham Architectural Products. The LEED-certified project, which also included the adjacent Building 28, features 1,105 of Graham's 6700 Series windows, 882 fixed and 223 awning.
The building houses 80 companies in its 84,000 square feet of offices, laboratories, and other industrial facilities.
Learn more about the Graham products used on this project by contacting Bruce Croak, Graham's marketing manager or Maurice Benor, our NY sales rep.