January Construction Picture "Solid"
February 8, 2016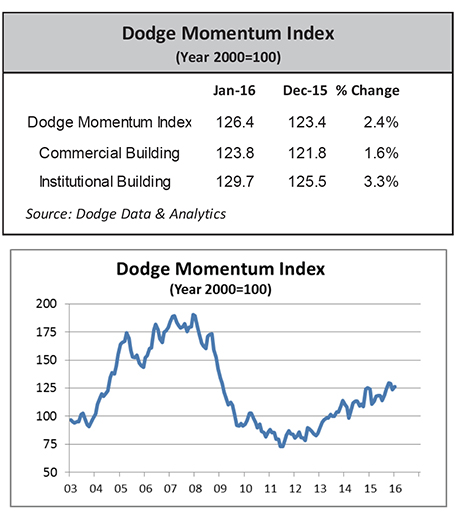 The construction industry enjoyed a solid start to the new year, as reflected in the recent release of economic indicators.
The Dodge Momentum Index rose 2.4 percent in January according to Dodge Data & Analytics and January construction hiring showed little month-to-month change according to the U.S. Bureau of Labor Statistics.
The bump in the Dodge Momentum Index, a monthly measure of the first report for nonresidential building projects in planning, resulted from a 3.3 percent increase in institutional projects and a 1.6 percent increase in commercial projects.
In a press release, Dodge Data & Analytics said, "On a year-to-year basis, the overall index is 1.7 percent higher, even though the commercial sector is down 6.8 percent. Commercial planning intentions started on an aggressive note in 2015 before settling back mid-year." Dodge Data added, "The overall trend in commercial planning has been positive as most commercial real estate fundamentals are improving. The institutional index started on a weak note in 2015, but improved throughout the year and is now 14 percent higher than one year ago."
While construction employment numbers remained relatively unchanged, total nonfarm payroll employment rose by 151,000 in January, and the national unemployment rate stayed at 4.9 percent.