January Economic Data Paint a Mixed Picture
February 12, 2015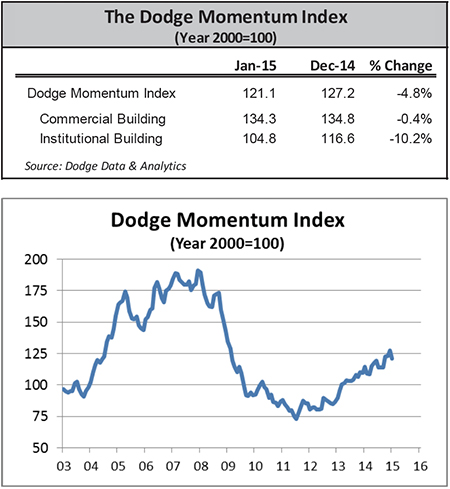 The Dodge Momentum Index, a monthly measure of the first report for nonresidential building projects in planning, fell 4.8 percent in January. On the other hand, the Associated General Contractors of America found that construction employers added 39,000 jobs during the month – and 308,000 over the past year – reaching the highest employment total since February, 2009.
The January Dodge Momentum Index fell to 121.1, down from a revised 127.2 in December.
According to Dodge Data & Analytics, while January's 4.8 percent drop showed decreased activity relative to December, "It was still in line with the moderate if at times hesitant upward trend that's been present over the past three years." During the final three months of 2014 the Momentum Index had jumped 11.7 percent and compared to the same month a year ago, January's Momentum Index was up 5.8 percent.
January's decline for the Momentum Index relative to December was the result of decreased planning activity in both the commercial and institutional sectors, Dodge Data & Analytics said.
Meanwhile, the construction sector job gains "come as most construction firms report plans to expand headcount this year, but worry about growing shortages of qualified workers," according to an analysis by the Associated General Contractors of America.
"Contractors have stayed busy this winter and expect to keep hiring through 2015 – if they can find the workers they need," said Ken Simonson, the association's chief economist. "The list of projects is growing in most states and most nonresidential segments, in addition to continuing strong demand for apartment buildings."