June Economic Data Mixed
July 9, 2015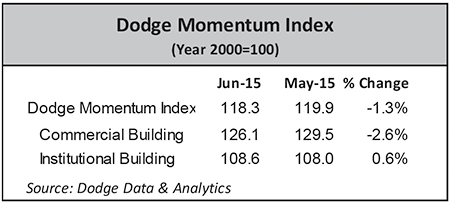 Although the Dodge Momentum Index declined in June, Dodge Data & Analytics said in its monthly report that "real estate market fundamentals remain favorable and can be expected to support a pickup in new plans for commercial buildings later this year."
The Momentum Index is a monthly measure of the first (or initial) report for nonresidential building projects in planning, which have been shown to lead construction spending for nonresidential buildings by a full year. The Index dropped 1.3 percent in June, finishing the month at 118.3, down from 119.9 in May.
According to Dodge Data & Analytics, "The institutional building sector edged up 0.6 percent in June, showing an increase in planning activity for the second month in a row, and it now stands 10.1 percent above the same month a year ago." This was in contrast to the commercial building sector, which dipped 2.6 percent in June.
Overall, the Dodge Momentum Index is up 2.2 percent compared to June, 2014.
In other economic news, U.S. Bureau of Labor Statistics last week reported a June decline in the nation's unemployment rate, although employment in the construction industry showed little change.